Scaling the heights for next generation of trees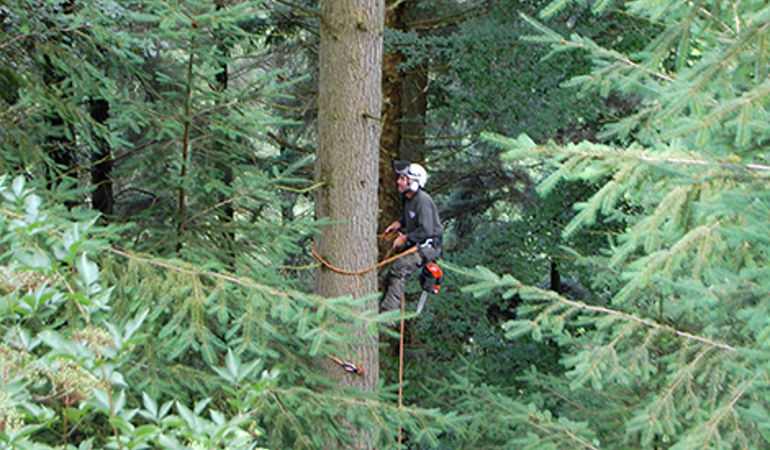 Contractors on behalf of Natural Resources Wales (NRW) have used specialist equipment to collect seeds from some of the tallest trees in Cwmcarn Forest.
The seeds from the Douglas fir trees will be germinated and grown into seedlings that, in a few years, will be planted alongside native and other conifer trees to replace larch trees cut down in the forest.
The seed collection and replanting is part of the plan to restore Cwmcarn Forest after the necessary felling of approximately 160,000 larch due to a disease that is killing the trees.
Andy Schofield, Regional Land Manager for Natural Resources Wales, said:
"This is part of our long-term plan to replant the forest as it is such an important part of the community and the economy in and around Cwmcarn.
"It is sad that we have to fell so many infected trees, but it does give us a once in a lifetime opportunity to redesign Cwmcarn forest to do more for people, the economy and wildlife.
"Whilst allowing natural regeneration of the woodland we will be planting a range of species like the Douglas fir, alongside native oak, birch, lime and other trees, to make it a more attractive forest and less susceptible to catastrophic disease in future."
The seed collection work by Lampeter Tree Services uses ropes and ascending equipment to scale the trees which can grow up to 40 metres high.
The seeds grow on the the branches of the trees in cones and the best cones are picked and placed into aerated bags for transport and storage.
The specialists collected 10,000 cones from the Douglas fir which potentially could produce 60,000 seedlings – enough to restock almost 60 acres of productive forest.
In the next twelve months, Natural Resources Wales will be looking to plant more than 3.2 million trees across Wales as part of its annual replanting programme.
A proportion of these are to replace some of the 2 million trees that have already been felled to tackle the disease.
The disease, Phytophthora ramorum, has infected more than 6 million trees in Wales since 2010. Once infected, the disease spreads through the tree and eventually kills it.
Commenting on the work, Andy said:
"Although the spread of the disease is not as extensive this year as it was last year, there are millions of trees that are affected and have to be felled. What we are doing now is working to restore those felled areas and make our forests a much better place in the future."