Crayfish released to replace victims of pesticide spill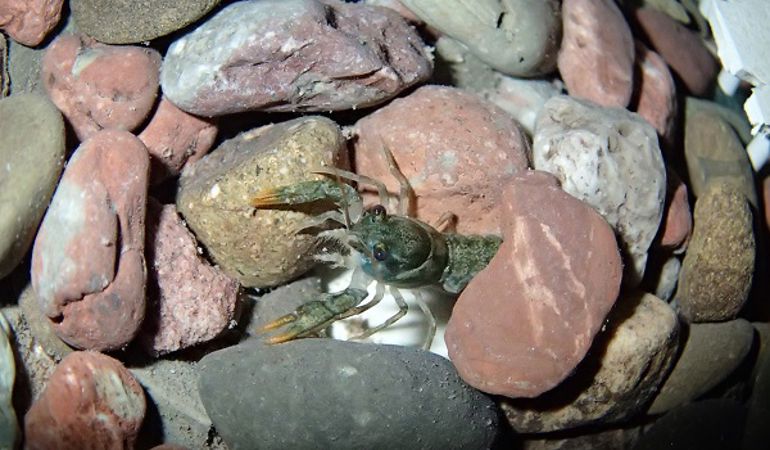 Nearly 600 juvenile crayfish have been released into a Powys river to replace the original population which fell victim to a pollution incident in 2012.
The white-clawed crayfish have been raised in Natural Resources Wales' Cynrig Hatchery to replace the fish which were killed when a pesticide release affected a 2km stretch of the River Ennig at Talgarth, near Brecon.
Other species such as bullheads were also found dead in the river but it was the crayfish deaths which caused particular concern.
The white claw, Britain's only native crayfish, was already under threat from disease, climate change, habitat degradation and competition from the more aggressive American crayfish which were introduced for food in the late 1970s and 1980s.
Oliver Brown, Fish Culture Officer, for NRW said:
"We've released 570 juvenile crayfish into a tributary of the Ennig and a further 1,000 juveniles will be released next year to replace those killed in 2012.
"The fish were reared at the Cynrig Fish Culture Unit, where a crayfish conservation strategy has been in place since 2009 which aims to protect existing crayfish populations and establish safe havens for the species."
So far more than 3,300 crayfish have been released from the unit, mainly in and around the River Wye, with future releases planned for the Wye catchment and in selected areas in West Wales.
Oliver added:
"Early signs are encouraging with hatchery-reared crayfish being found alive and well 15 months after their release and this year we are carrying out further surveying to gain a better picture of post release survival and dispersal.
"And we are also improving river habitats and water quality that the introduced crayfish need to thrive.
"This work is important as experts believe that without intervention there is a real risk the white-claw species could become extinct from mainland Britain within the next three decades."