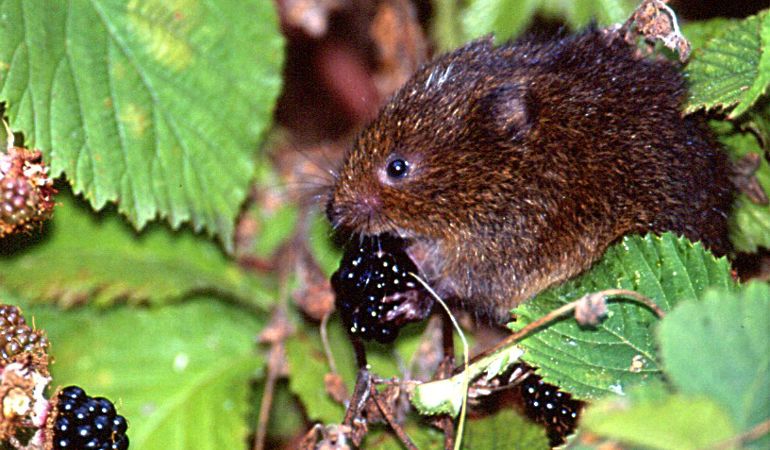 The water vole, immortalised by "Ratty" in "Wind of the Willows", is making a comeback in Wales, after becoming the most endangered mammal species in the UK.
The water vole was once a common sight on Welsh waterways but since the 1970s, numbers have declined by more than 90%.
Natural Resources Wales (NRW) started a captive breeding programme 10 years ago and since then, almost a thousand water voles have been reared and released into the wild, boosting the survival prospect of this iconic species.
NRW, working with local partners, has established thriving breeding colonies in four locations across south, mid and west Wales. 
Richard Davies, Natural Resources Wales, said:
"Wildlife is an important part of our environment, heritage and culture – but water voles need a helping hand because their numbers have declined significantly.
"Male and female voles are paired up in March and will typically produce 6 litters by late September, comprising 4-6 babies, on average.
"The offspring are released during the summer, into selected controlled sites with good connectivity, so they can colonise the wider landscape."
Changes in land use practices in the UK and riverbank management techniques, resulted in habitat loss, contributing to the decline of the water vole.
However, it was the introduction of the North American mink for fur farming that had a catastrophic effect on their numbers.
Mink are ferocious predators and will carry on killing until an entire colony of water voles is annihilated. They also kill grass snakes, frogs, toads, wildfowl, birds and even swans.
Richard added:
"This breeding programme offers hope that water vole populations can be re-established in many parts of Wales, helping to form more resilient ecosystems.
"Their reappearance at sites like Cosmeston has given people great enjoyment, watching water voles feeding and swimming on ponds next to the main park walkway.
"Controlling mink is key to their long-term survival, as the two species rarely co-exist in any one location
"As a result, it's important to have the right measures to control mink at every site where we have established breeding colonies."