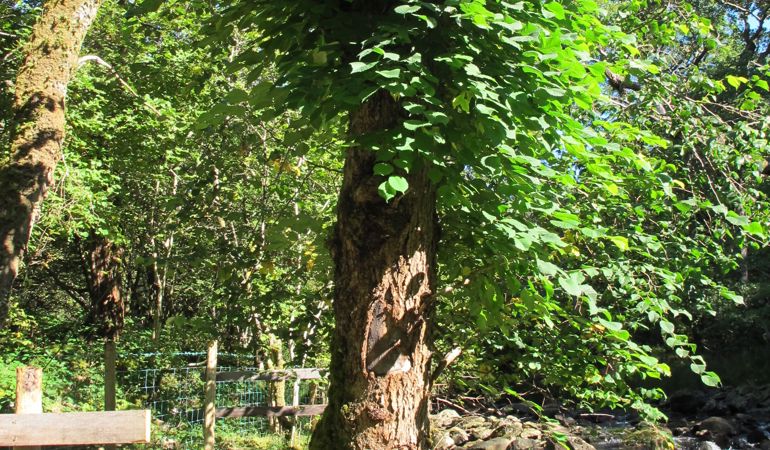 One of Britain's rarest species has been saved after a fallen tree was hauled back onto its feet.

A wych elm tree near Allt y Benglog National Nature Reserve (NNR) at Rhydymain, Dolgellau, was the only known host in the UK to a particular colony of lichen.
But the elm fell over in April 2013 with this rare species concealed under the fallen trunk.
There was a very real risk that the UK's only known colony of the lichen (Biatoridium monasteriense) would be lost.
Natural Resources Wales' (NRW) staff at Allt y Benglog received permission from the land owners to try to save the tree.
Some of the branches were cut off so it would be less likely to topple over again before it was winched upright and contractors used galvanised wire ropes to anchor it.
However, chunks of bark had been knocked off the tree where the lichen grew and there were concerns that this extremely rare species had been lost.
Now, two years on, a lichen expert was called in to see if the lichen had survived.
Not only did he find that several small patches of the lichen survived on the tree trunk, but the lichen was also found on two more elms nearby.
Sam Bosanquet, Senior Habitat Survey, Evaluation and Non-Vascular Plant Ecologist for NRW, said:
"There are few rarer Welsh species than this lichen and this is a great example of how we can work with local people and experts to protect rare species."
NRW says that it is also carrying out other innovative conservation work to give the lichen the best chance of survival.
Paul Williams, Senior Reserves Manager for NRW, said:
"We are carefully clearing trees that are shading the wych elm to create better living conditions for the lichen.
"And seed from the host elm is being gathered to plant on the Allt y Benglog NNR to protect the future of one of Britain's rarest species."