Outdoor education area restored by NRW staff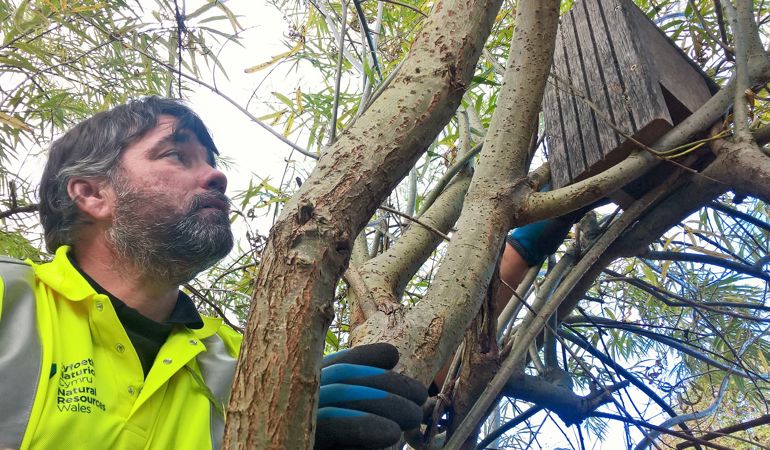 Children at a primary school in Swansea can use their outdoor recreation area once again after a team of Natural Resources Wales (NRW) staff volunteered to refurbish it.
The area, at Morriston Primary School, had been closed off for safety reasons and needed maintenance and some reconstruction work to be usable again. 
NRW staff are able to spend a couple of days a year volunteering on environmental projects and decided to help restore the education area. 
They used materials left over from other operations to help refurbish the education park including plastic sheets and old timber. 
These materials were used to build star shaped plant beds for the children to grow their own vegetables as well as bat and bird boxes. 
Benches were also added to the garden as well as willow archways, new paths, a safety rail and a seating area that doubles as an outdoor classroom. 
Mark Sabine, Field Team Leader for NRW, said: 
"People who are active and enjoy the outdoors are more likely to live longer, healthier and happier. 
"Promoting people's health and wellbeing is a huge part of our work and getting children involved with nature is a big part of that. 
"The refurbishment of Morriston Primary's outdoor education area is a result of this sort of work and will help teach children about nature and wildlife from an early age. 
"We were delighted to help the school and we hope the children enjoy the re-opening of their garden." 
Alison Thomas, Deputy Headteacher at Morriston Primary School said: 
"We are extremely grateful to the team from Natural Resources Wales. The pupils will be overjoyed to see the changes in the garden as it will provide such a rich learning environment for them.  
"Active learning in the outdoors is vital as it inspires and motivates our pupils, providing them with a range of stimulating experiences." 
The refurbishment had support from John Jones Haulage (Gorslas), Parker Plant (Llanelli) and Derwen Aggregate (Neath Abbey) who provided topsoil for the planters, an excavator and recycled stone chippings.