New round of apprenticeships in digital technology
Young people with a passion for digital technology are being urged to apply for a two year apprenticeship scheme with Natural Resources Wales in Bangor, north Wales.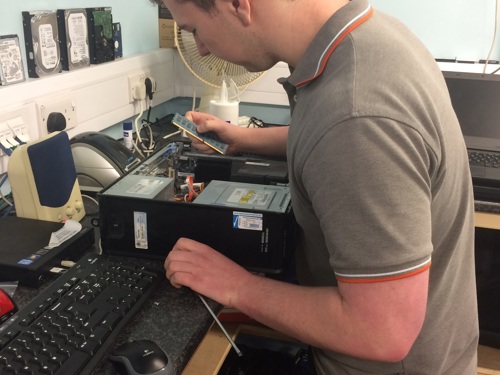 Our Cyfoeth IT (Information Technology) apprenticeship scheme, now in its third year, is the first of its kind in the public sector in Wales. It gives college and sixth form leavers a chance to earn a wage, gain on the job experience and work towards an industry recognised qualification by Microsoft.
We are currently looking for young people, who are considering a career in the evolving world of digital technology, to join our award winning IT department in Bangor to learn a wide-range of tasks such as programming and engineering.  They could get involved in anything from developing mobile apps to helping set up networks for offices.
Dee Cosmala, one of the current Cyfoeth IT apprentices at Natural Resources Wales said:
"Joining the apprenticeship scheme has offered me many opportunities to learn new skills. I have been fortunate to study and gain an IT Microsoft qualification as well as the invaluable reward of working with some very skilled people - an education in itself."
"I would advise anyone not sure about the next step to take after school or college to go for it! I've learnt so much in such a short space of time thanks to working on the job and working with such a talented team of people."
Kevin Ingram, Executive Director Finance and Corporate Services at Natural Resources Wales said:
"Digital technology is a hugely important, and growing area for us at Natural Resources Wales - like all public sector organisations.
"Our apprenticeship scheme is a great way of getting young people who have enthusiasm and new ideas into the organisation, which really helps in how we develop new services."
"Since 2014, we've taken on 14 apprentices to work in our IT team. We are now excited to open a third round of IT apprenticeships to provide more opportunity for young people to learn a profession and create a more skilled workforce for Wales."
The closing date for applications is Friday 2 September 2016.