Natural Resources Wales wins green energy award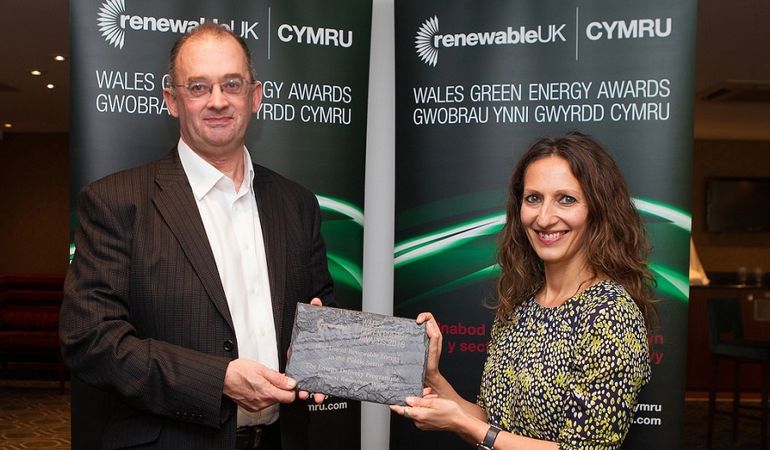 Natural Resources Wales' (NRW) role in championing renewable energy developments has been recognised at the Wales Green Energy Awards, organised by RenewableUK Cymru.
NRW's Energy Delivery Programme (EDP) team won the 'Best Use of Renewable Energy in the Public Sector' award. 
This award recognises the EDP's work with developers to make the most of Wales' natural resources in the promotion and development of a low carbon economy.
James Laing, EDP development manager said:
"This award confirms NRW's role in championing Wales as a leader in the renewable energy field.
"We manage around 142,000 hectares – that's almost seven per cent of the land in Wales and we want to encourage more commercial opportunities that benefit the environment for people and nature.
"Our expertise includes engineering, environment, land agency and forestry, which helps developers overcome potential issues facing new developments.
"And we have been at the forefront of developing NRWs renewable energy strategy to support Welsh Government's low carbon economy, climate change and green growth programmes.
"This has been achieved by developing the "Energy Park" concept which promotes multiple renewable energy technologies on suitable NRW managed land."
Since 2013 the EDP team has led and delivered three key renewable energy programmes:
Wind Energy Programme featuring Pen y Cymoedd, Brechfa Forest West and Clocaenog Forest wind energy projects
Small Scale Hydropower Programme
Third Party Access for Energy Programme, which facilitates developer access eg vehicles, cabling, grid connection etc across land managed by NRW to neighbouring land
A recent addition to this portfolio is the Natural Resources Wales self-build hydro programme where the EDP team will become the developer.
David Clubb, Director of RenewableUK Cymru, said:
"NRW's commitment to renewable energy can help Wales lead the way in enabling development while protecting the natural assets on which our wellbeing relies
"Technological advances are forcing change at a blistering pace. Costs continue to fall for all renewable energy technologies, and innovation is also enabling supporting infrastructure like storage and grid.
"NRW is ideally placed to support this fast moving change by enabling the right development in the right places with low impact on the surrounding environment and natural resources."