Natural Resources Wales Analytical Services opens for business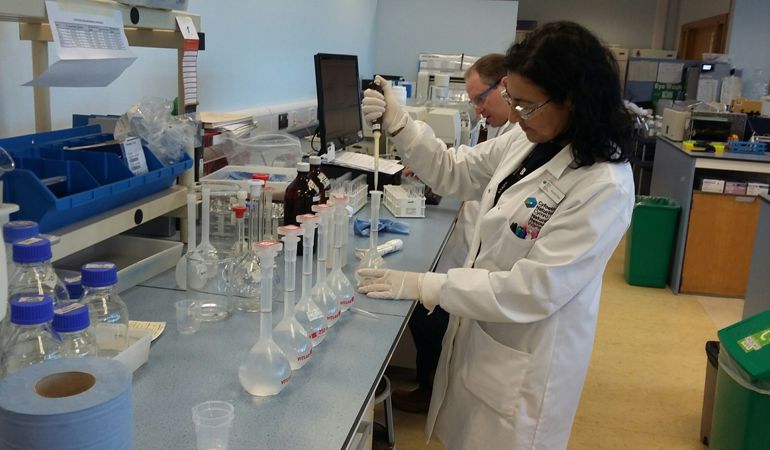 A new environmental analysis laboratory has opened its doors to commercial customers at a brand new, state of the art facility.
Scientists from Natural Resources Wales (NRW) have decades of experience analysing water samples.
Now, at their new laboratory at Swansea University, they are looking to expand the services they provide to others in the private and public sectors.
Andrew Jones, Commercial and Quality Manager for NRW Analytical Services said:
"We've built up a tremendous amount of expertise in a variety of analysis methods for water, sediment and biota (animal and plant tissue) and can offer a high quality, one-stop-shop for customers, delivering on time, every time.
"We have more than 40 staff, highly experienced in complex saline, ground and river water analysis.
"Our reputation is built on regular, long-term monitoring of water quality on Welsh beaches, on-the-spot analysis and evidence-gathering relating to pollution incidents.
"This helps ensure the natural resources and environment of Wales are sustainably maintained, enhanced and used.
"We have already delivered on a diverse range of projects for commercial customers, such as "passive" water sampling for water companies. This determines mass loadings of pollutants to enable the customer to determine the best water treatment required at an abstraction.
"Now that we are established in our new laboratory at Swansea University, we want to offer our services to more commercial customers who can benefit from the world class service we can offer."
The new laboratory will not only accommodate current needs and future growth but also offer opportunities for joint research ventures between NRW and the academic sector.
Swansea University has a vibrant international community of conservationists, bio scientists, bio engineers and chemists and its partnership with NRW provides synergies and greater capacity to nurture and protect the environment.
Andrew Jones added:
"We aim to engage in more collaborative projects with universities, such as developing innovative new analysis methods for low level detection.
"Such ventures will help us to protect the environment for the benefit of future generations, while providing sustainable employment and training".
Natural Resources Wales Analytical Services is accredited by UKAS, the national accreditation body for the United Kingdom and complies to stringent ISO 17025 standards for the competence of testing and calibration laboratories.