Mechanical tree planting trial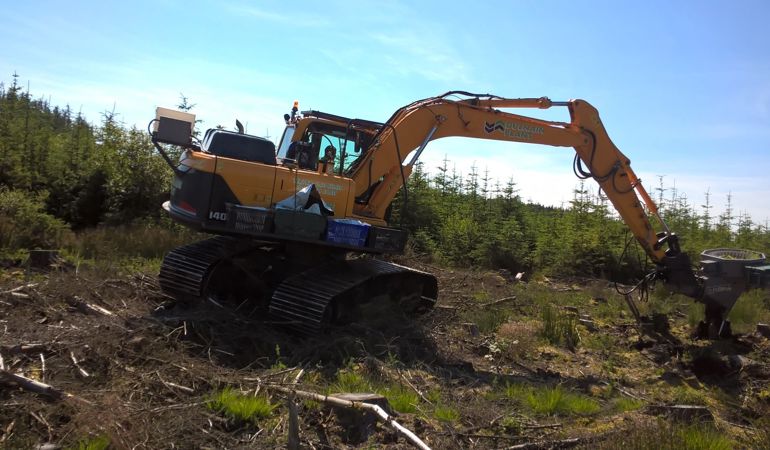 Natural Resources Wales (NRW) has recently trialled the use of a mechanical planter to plant conifer trees on the Welsh Government's woodland estate.
Some 75,000 trees have been planted over the last few weeks on 65 acres of land in the Clocaenog and Tywi Forests. This is roughly an area the size of nearly 50 football pitches.
NRW contractors, Dulnain Plant, used a machine which prepares the ground and plants the saplings at the same time.
The work will contribute to NRW's overall programme of planting four million trees, made up of 35 conifer and broadleaf species, on more than 4,400 acres of land Wales-wide this year.
This restocking programme is part of NRW's response to tackling the tree disease that affects larch, Phytophthora ramorum (P. ramorum)
Neil Muir, NRW Forestry Operations Manager said: "Mechanical planting is efficient and cost effective – we can plant around 1000 to 1500 trees every day depending on site conditions.
"We will be monitoring this work closely to see if the same approach can be used at other sites.
"We will still rely heavily on manual planting but this method may allow us to extend the planting season."
For this replanting scheme, conifer trees were delivered from the Forestry Commission nursery at Delamere, in Cheshire.
NRW manages 126,000 hectares of mainly conifer woodlands in Wales and provides around 770,000 tonnes of timber to the industry each year.
And there are wider benefits as well. Trees help reduce the effects of climate change, by taking in carbon dioxide from the atmosphere.