Making tracks for partnership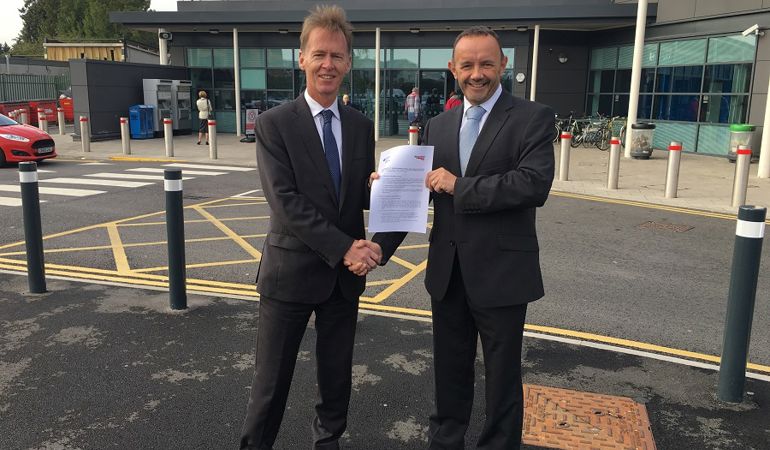 Communities in Wales will benefit from reduced flood risk and better rail links, thanks to a new agreement between Natural Resources Wales (NRW) and Network Rail Wales.
The new agreement reinforces both organisations' commitment to collaborate.
This will mean working together on preparing for the effects of severe weather and climate change, managing land and strengthening Wales' natural and transport assets.
Both organisations have already helped each other on a number of coastal and river schemes.
One example is joint work to remove debris and large cobbles from under railway bridges including the River Rhondda Fach Bridge at Porth. This ensures flood risk to the railway line and property upstream is reduced.
Emyr Roberts, Chief Executive of Natural Resources Wales, said:
"When organisations work together we can do more. So this agreement means the environment and rail users all benefit.
"It formalises the proactive working relationship that NRW and Network Rail Wales have built over recent years, particularly on how we manage the risks of floods to communities and the rail network.
"The recent State of Natural Resources Report emphasised that different organisations need to collaborate to improve the resilience of our environment, natural resources and ecosystems, and this partnership puts this principle into practice."
Andy Thomas, Route Managing Director at Network Rail Wales, said:
"We are very pleased to be building on the collaborative partnership that already exists with Natural Resources Wales by signing this memorandum.
Partnership working is vital as we work to deliver our Railway Upgrade Plan to provide a better railway for passengers and communities across Wales and the borders. We look forward to building on the success of this positive and proactive working relationship with Natural Resources Wales in the future."