Major step towards reducing flood risk in Newport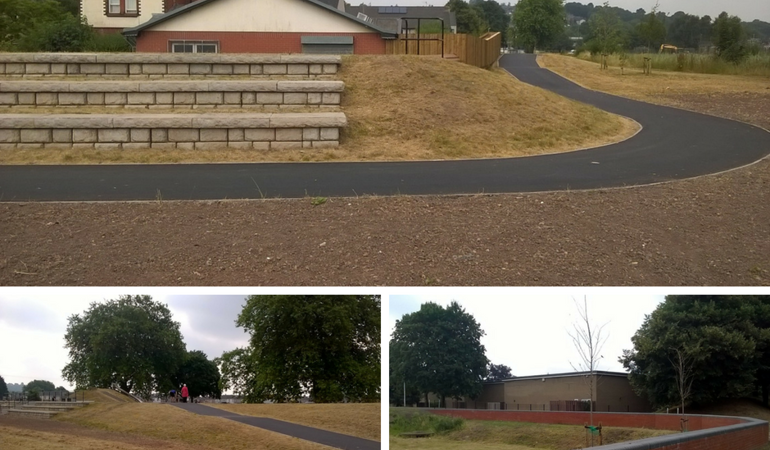 The first phase of a scheme to increase flood protection for more than 600 properties in the Crindau and Shaftesbury areas of Newport has been completed.
The dangers of flooding are nothing new to these communities.
The low-lying area between the Crindau Pill and the River Usk has flooded several times from extreme tidal events, most notably in 1981 when 500 homes and businesses were affected.
Phase 1 of Natural Resources Wales' (NRW's) scheme included constructing flood walls behind the industrial properties to the north of Lyne Road Bridge, and a new embankment through Shaftesbury Park.
The new embankment includes seated terraces overlooking the playing field to enhance this local amenity, and a new footpath and cycleway now run through the entire park.
The old garages along Pugsley Street have also been demolished and a new earth embankment runs through the former Sainsbury's site.
Tim England, Flood Risk Operations Manager for NRW, said:
"The people in these communities have lived with a very real risk of flooding for years, and it's our job to reduce this risk where possible.
"The completion of this first phase is a major step towards reducing that risk and we thank the community for their patience over the last year and a half during construction and the disruption it has caused, including the closure of Lyne Road Bridge.
"In August, our landscape contractor will be planting trees and shrubs on the old Coronation Club site on Albany Street, and will build a new children's fitness trail and raised areas for the children to explore.  We do hope the residents enjoy this new amenity.
"The parks and the playground will also reopen in time for the school holidays."
Work now moves onto the second phase of the scheme to reduce the flood risk to an additional two areas.
Tim continues:
"Work to protect these two remaining areas is progressing but there are a few complex issues to overcome, and we continue to discuss plans with landowners, architects and planners.
"We've installed temporary flood defences while these plans are agreed."
For more information on the project and to get the latest updates visit www.naturalresources.wales/crindau.