Major drive to beat the pine weevil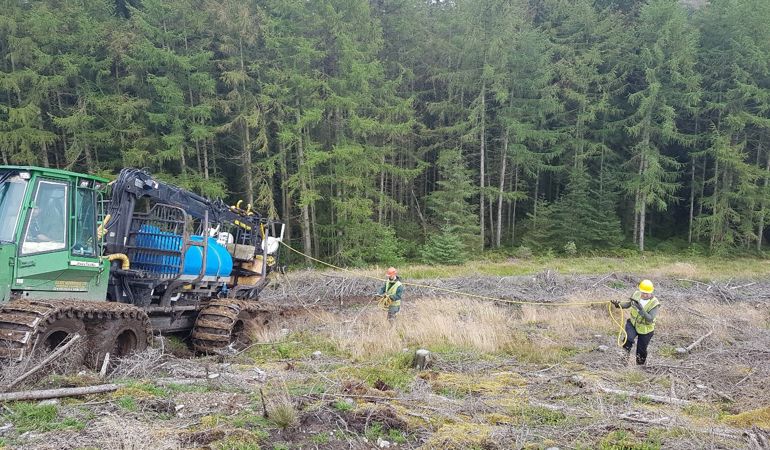 Natural Resources Wales has embarked on the largest programme in the UK to tackle a pest that lives on conifer trees in an environmentally friendly way.
Natural Resources Wales (NRW) will spray microscopic worms known as Nematodes into and around conifer tree stumps to combat the pine weevil.
The work starts in the Tywi Forest, near Llandovery in Powys before moving northwards to the Hafren Forest, and finishing in Clocaenog Forest in Denbighshire
The total area covered will be nearly 500 acres – an area the size of 276 football pitches.
The programme is due to be completed next week.
Neil Muir, Forest Manager for NRW said: "Pine weevils can have a devastating impact on young trees.
"We are trying to move increasingly towards using this biological control method to combat them and create more resilient forests.
"The nematodes eat the weevil grubs tackling the problem at source.
"Reducing the overall population of weevils in the forest block which will reduce the damage to young trees and create a more resilient forest.
"We will monitor the work closely to see if the method can be applied even wider in future, cutting down further on the use of chemicals."
The treated areas will be left for six weeks to check the nematodes have successfully killed the weevil grubs before replanting starts.
NRW manages 126,000 hectares of forests and woodland across Wales on behalf of the Welsh Government - that's six percent of the country's total land area - and around 40 percent of Wales' forest.
Forests bring a range of benefits as well as sustainable timber production. They help manage water and provide a habitat for wildlife.
And forests have a key role to play in managing the effects of climate change by reducing levels of carbon dioxide in the atmosphere.