Learning is all part of the Llynfi experience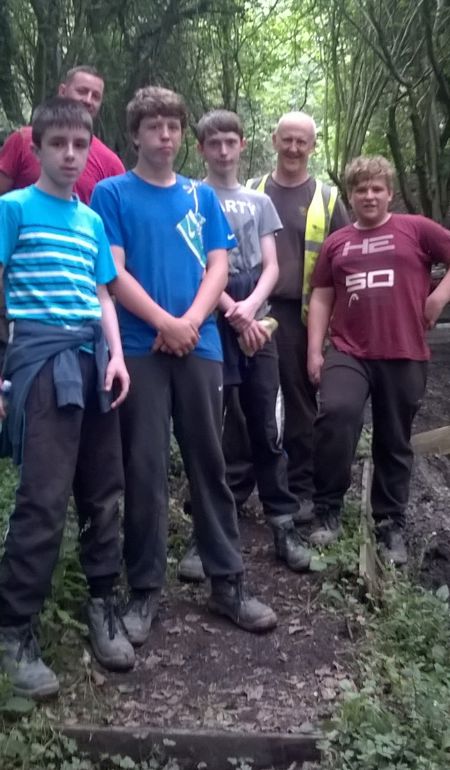 The Spirit of Llynfi Woodland is bringing many benefits to the communities of Maesteg.
It is transforming a former industrial site into a fantastic green space which promotes health and wellbeing by creating walking and cycling trails and a green gym.
But the latest initiative at Llynfi turns the focus away from leisure activities and concentrates on training and education.
Natural Resources Wales community engagement officer Geminie Drinkwater explained:
"Four young people from the Construction Training Centre in Maesteg, Ronaan Quinn, Harry Mort, Morgan Wright, and Kristian McIlroy, have been working with our contractor Ground Control to develop part of the woodland into an education area for local schools.
"They have been installing a log circle which will be used to teach bushcraft and other forms of outdoor learning. The idea for an education area was suggested by pupils who were asked to come up with ideas for the woodland."
The Construction Centre is an arm of Neath Port Talbot College, which offers training for school leavers who don't intend to study for A Levels.
Geminie continued:
"I made contact with the centre during the community consultation phase of the project and from subsequent meetings we felt that the woodland project would offer a great opportunity for their young people to get engaged in something meaningful which will bring direct benefits to the local community."
In addition to working on the education area, youngsters at the centre will also be making benches and picnic seating to be placed throughout the woodland which can be enjoyed by all visitors.
Mark Stokes, Construction Manager for Ground Control, was enthusiastic about the project, he said:
"We are delighted to be working with The Construction Training Centre to develop this community woodland into an outdoor learning resource for all to enjoy. The benefits it will provide for the community and local schools is fantastic and we are proud to be a part of it."
NRW is creating the new woodland on the site of the former Coegnant Colliery and Maesteg Washery in the Upper Llynfi Valley, in a project funded by the Welsh Government Nature Fund.
More than 60,000 trees have been planted on 30 hectares of the 75 hectare site.
Geminie added:
"Having green spaces on our doorstep is not just good for wildlife, it also helps people feel better about their community and provides an area to unwind and exercise.
"The project demonstrates how we can deliver benefits for local communities through the sustainable management of natural resources."