Increase in seagrass meadow good for marine life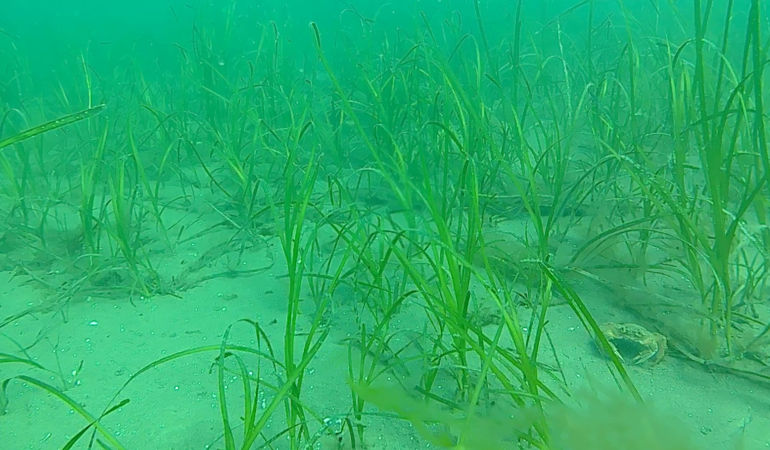 A marine survey has shown an increase in the area of seagrass off Skomer Island, Pembrokeshire. 
Natural Resources Wales' (NRW) team of marine scientists conducted repeat surveys between 1997 to 2018, to monitor the health of seagrass within the Skomer Marine Conservation Zone.
A team of volunteer divers supported the survey, monitoring both the size of the seagrass meadow and the density of the seagrass plants.
Phil Newman, NRW Senior Marine Conservation Officer said:
"Seagrass meadows provide nursery areas for commercially important species such as cod, pollack and flat fish but are declining by 7% per year globally.  
"Our survey showed that the seagrass meadow was healthy, it had both expanded and the density of plants is the highest ever recorded at this site.
"This is a great result, bucking the trend and giving a boost to marine life.
"Seagrass meadows act as vast filters, recycling nutrients and reducing microorganisms that can cause disease in our seas.
"We lost 90 per cent of seagrass through disease, across the whole of the North Atlantic in the 1930s. This resulted in massive declines in clams, lobster, scallops, crab, cod and flounder.
"Seagrass is also an effective breakwater and sediment stabiliser and its loss causes coastal erosion and increased pollution."
The seagrass meadow is located at North Haven, also the location for landing Skomer Island visitors.  It is a busy area for visiting motor boats and yachts which need a safe place to stop and anchor. 
To protect the seagrass from damage from anchoring, "No anchoring" marker buoys, clearly marking the seagrass meadow, have been installed. The NRW team have also established a number of moorings for visiting boats and their use is encouraged.
Phil added:
"The natural resources we are here to protect – our air, land and waters – provide a home to the rich, diverse and valuable wildlife we have in Wales.
"We have to look after these resources now, so they continue to support our wildlife,our communities and our economy in the future.
"We stop visiting boats anchoring in the seagrass to protect what is a valuable habitat and food source for fish, razor clams, hermit and spider crabs, as well as a deposit of "blue carbon" - the long-term storage of atmospheric carbon dioxide in the sea".