Gravel cleared to reduce flood risk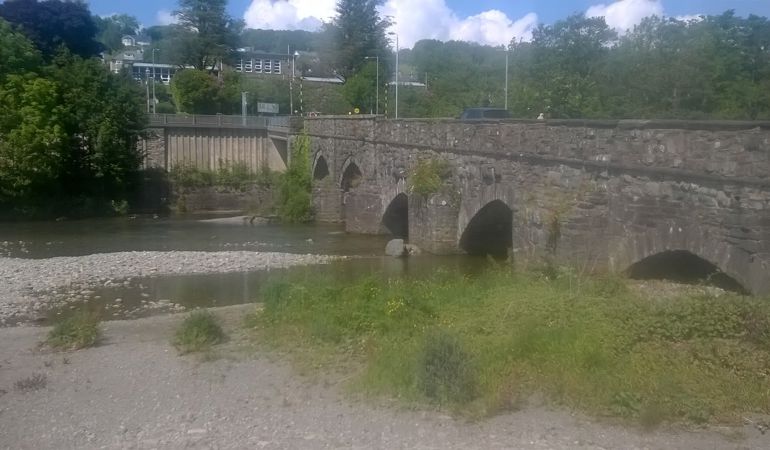 Work is taking place this week to reduce flood risk in a Meirionydd town.
We are clearing approximately 1,500 tonnes of gravel from underneath the Bont Fawr in Dolgellau to stop it blocking the arches in the bridge.
During heavy rain, this could cause the water to back up, threatening the town with flooding.
The work is in addition to the almost-completed £5.6 million scheme to build new flood defences on the Wnion and Aran rivers in the town.
Our workers spent three days last week clearing Himalayan Balsam from near the bridge. This invasive plant outcompetes native species and erodes river banks, increasing the risk of flooding.
Now they can go ahead and clear the gravel which is reducing the flow of water underneath four of the bridge's seven arches.
Gwyn Thomas from our Operations Delivery Technical Support Team, said: "Gravel is carried naturally downstream. Usually it's a normal part of the river's natural process and doesn't cause a problem.
"However, on the Wnion, some of it is held back at Bont Fawr and it needs to be cleared before it creates a flood risk.
"We'll be returning all the gravel to the river just a little downstream so it continues to be an important part of the river environment, providing a natural habitat for fish and other wildlife.
"This also helps reduce erosion in other places downstream."
The work is expected to take about a week to complete.