Construction to start on Roath flood scheme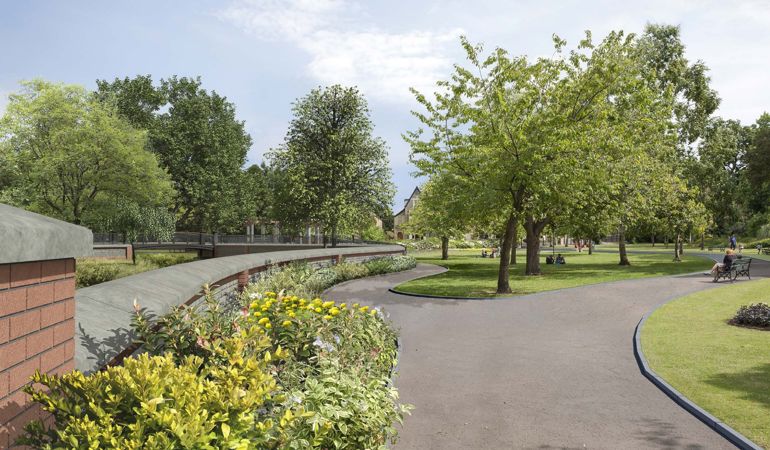 People living and working in Cardiff are invited to a drop in event to find out more about the latest plans to reduce the risk of flooding to more than 400 properties in Roath.
Natural Resources Wales (NRW) has appointed the contractor Dawnus to carry out the flood scheme construction works, due to start at the end of January, and also appointed a Welsh artist to create artwork for the Roath Mill Gardens. 
The drop-in session, 3pm to 7pm on 11 January 2017 at St Peter's Rugby Club, will give people a chance to ask those involved in delivering the project questions about the scheme and hear how they can help shape the artwork over the coming months. 
Tim England, Flood Risk Manager for Natural Resources Wales, said: 
"Flooding can devastate people's lives. Keeping communities safe and reducing the risk from flooding is an important role for us. 
"The drop in session is a chance for people to speak to the company that will build the scheme, learn about how it will reduce the flood risk and benefit the area, and ask questions they may have about the construction phase. 
"We also want people to get involved in shaping the new artwork in Roath Mill Gardens. The artist, Rubin Eynon, has some great ideas and is keen to share these with the community. 
"Please drop by for a chat – we would really value your comments." 
Over 400 homes and businesses in the area are at risk of flooding from Roath Brook. The scheme will increase the level of protection for the community from 1 in 5 to a 1 in 75 chance of flooding in any given year. 
The work will take place from Penylan Road, through Roath Brook Gardens, Roath Mill Gardens, Waterloo Gardens, and Railway Gardens. The scheme will include new flood walls and embankments, will widen the river channel and enhance a number of bridges to increase the brook's flow capacity. These features will be softened through the incorporation of urban landscaping. 
People who want more information and latest news on the Roath flood scheme can visit www.naturalresources.wales/roath. 
Anyone concerned about flooding can check their flood risk, and find out if a free flood warning service is available in their area by calling Floodline on 0345 988 1188 or by visiting www.naturalresources.wales/flooding.