Concern as camp fires and litter threaten wildlife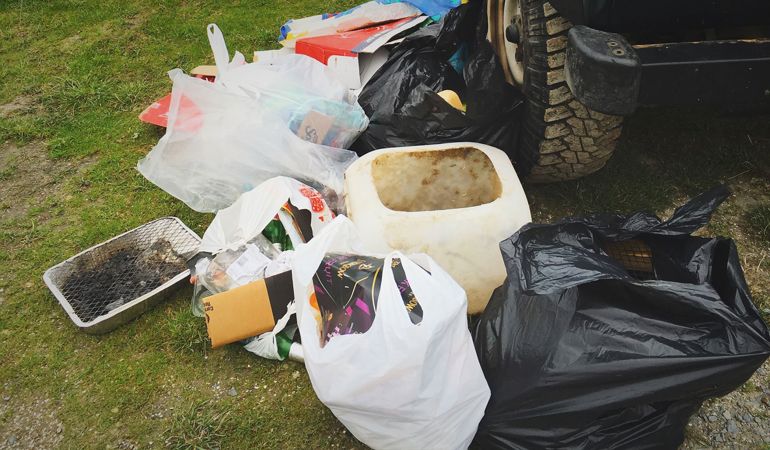 Natural Resources Wales (NRW) is asking people not to start bonfires or leave rubbish behind when visiting nature reserves, as it can threaten the wildlife that lives there.
This follows an incident at Dyfi Ynyslas Nature Reserve, near Aberystwyth, where a party was held at the beach over the August bank holiday weekend.
The partygoers also decided to camp on the nature reserve and were woken on Bank Holiday Monday by NRW reserve staff and Dyfed Powys Police, who asked them to remove their litter and tents before leaving the site.
Marker posts and public safety signs from the nature reserve had been used to fuel a bonfire, and there was broken glass and other debris found around their vehicles.
Large amounts of plastic bottles, cans, food wrappers and general rubbish were also collected over the bank holiday weekend at the site, which is run by NRW.
Ali Chedgy, Ceredigion Assistant Reserve Manager, Natural Resources Wales said:
"Nature reserves are fantastic places for people to enjoy and get closer to nature, but they also provide a home to the rich, diverse and valuable wildlife we have in Wales.
"We do ask all visitors to be considerate when they visit, and to be aware of the harmful effect that fires, fireworks, and leaving rubbish can have on the reserve.
Bonfires could be devastating to the site and its wildlife, and a risk to human lives, because the long dry grass on could easily catch fire from a wayward spark or unextinguished log.
Any rubbish left on the reserve can also contain chemicals which, if eaten by animals, can cause distress or fatalities.
Ali added:
"Wildlife is an important part of our environment, our heritage and our culture here in Wales.
"Having a camp fire or letting off fireworks at a nature reserve might seem like fun but it is a risk to wildlife, the habitats they call home, and people living nearby."
Some nature reserves across Wales are Special Sites of Scientific interest (SSSI) or Special Areas of Conservation (SAC), this means they are protected by law and any damage could be considered a criminal act.
If you see people lighting fires or setting off fireworks on a National Nature Reserve, please contact the Natural Resources Wales 24 hour incident hotline on 0800 807060.