Community action clears waste from Gwent Levels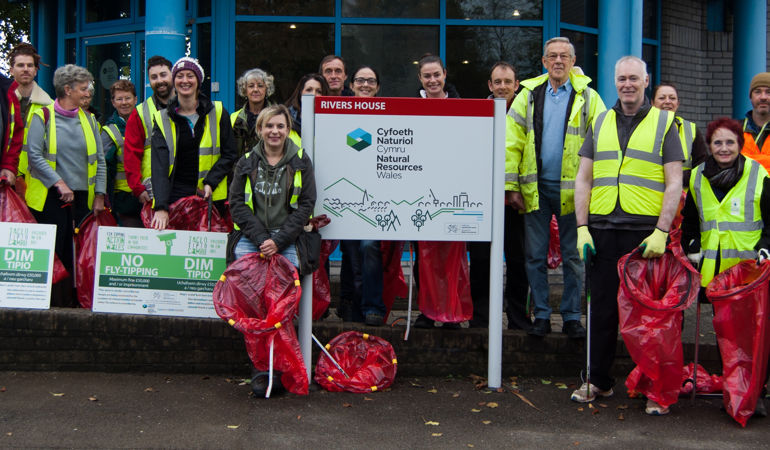 Natural Resources Wales (NRW) has recently taken part in a two day community clean up in Green Lane on the Gwent Levels.
During the clean-up 980kg of waste were taken from the site. The type of waste found on the Levels include household and business waste, asbestos, waste generated from cannabis cultivation, and dead animals.
Green Lane (Heol Las) on the Gwent Levels is a Site of Special Scientific Interest (SSSI) and has been identified as one of the worst hotspots for fly-tipping in Wales, with over 40 incidents logged since April 2018.
To tackle this a targeted project Black Spots to Bright Spots has been implemented by the Living Levels Landscape Partnership. It will see increased enforcement in the area, the use of covert and overt cameras and 'no fly-tipping' signs erected.
On the doorstep of Newport and Cardiff, the Levels act as a 'green lung' for the cities and contributes to flood defences and air pollution control. Waste being tipped in the reens (drainage ditches) can cause flood risk and risk of pollution and affect water voles, otters, wading birds and waterfowl. The fly-tipping has also caused a danger to road users by blocking the road and puncturing tyres.
The clean up was carried out by members of the Wentlooge Community Council, Fly-tipping Action Wales, RSPB Cymru, Keep Wales Tidy, Newport County Council's Pride in Newport and members of the local community.
Jayne Carter - Black Spots to Bright Spots Project Manager said:
 "We are delighted to support work like this making sure the natural environment is protected and improved for our local communities and for wildlife.
"The clean up was a huge success in making this historic and beautiful area more appealing so that the community can reconnect with the wonderful natural resource right on their doorstep.
"Our aim is to achieve a cleaner and fly tipping free area in the long term through education, awareness and enforcement"