Casting around for better health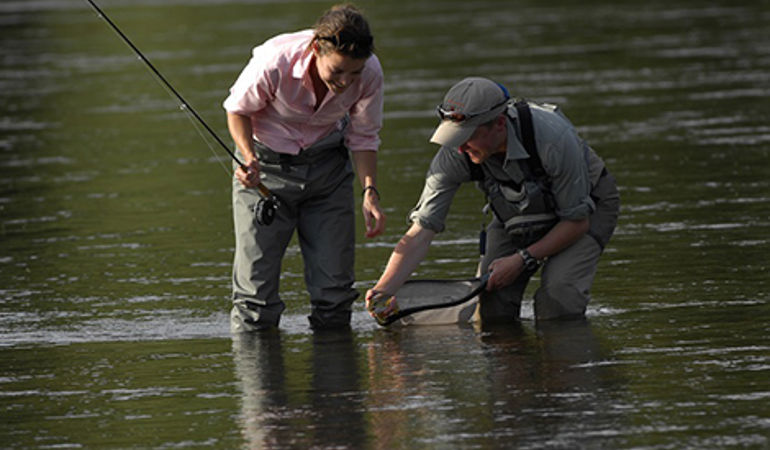 Spring is in the air and thoughts naturally turn to the great outdoors and what could be better than spending some time on the banks of a lake or river fishing.
Natural Resources Wales sells around 60,000 rod licences each year and the anglers who buy them are well aware of the ways fishing helps the environment and boosts the Welsh economy.
But what about the social and health benefits of angling? Do participants in this most popular of pastimes enjoy improved physical and mental wellbeing?
Rob Evans, Freshwater Fisheries Advisor for NRW, said:
"Angling provides a healthy recreational activity for people, both young and old, to enjoy. There is a wide-spread belief that it's an entirely sedentary activity that mainly involves sitting still, doing little and catching less. The reality, however, is quite different."
"The variety of physical activity involved in angling makes it a sport that enables inactive people to become more active and develop confidence, fitness and new skills. And anglers are able to remain physically active long after their ability to participate in other sports and leisure activities has declined."
Angling contributes to health and well-being in three ways.
Its range of physical activity levels are suitable for the inactive, people recovering from illness and older age groups who may not participate in other sports.
It incorporates contact with the natural environment which helps maintain positive mental health, combat stress and can support programmes for people suffering from mental illness.
It encourages the relationship building, connection and participation in social life essential to well-being and active ageing.
Rob added:
"Angling gives people the opportunity to get involved in improving their community through volunteer initiatives like river restoration and developing partnerships with local authorities and third sector groups."
"It helps socially excluded young people develop personal and social skills and has proved particularly useful in diverting then from crime and anti-social behaviour."
Wales enjoys a wealth of high quality fishing opportunities which attract visitors from far and wide and latest estimates suggest angling is worth approximately £150million annually to the economy.
Whether you are an experienced angler or new to the sport you will need a rod licence to fish and the 2015 licences can be purchased on-line, over the counter at all Post Offices and by telephone. If you are under 12 years old you will not need a licence and concessions are available for older as well as less abled anglers.
Further information about rod licences.
There are hundreds of community-based angling clubs across Wales providing good value angling and plenty of information online providing help and guidance for anglers of all abilities.
To find out more visit: