Busy improving life for endangered bees - even in Winter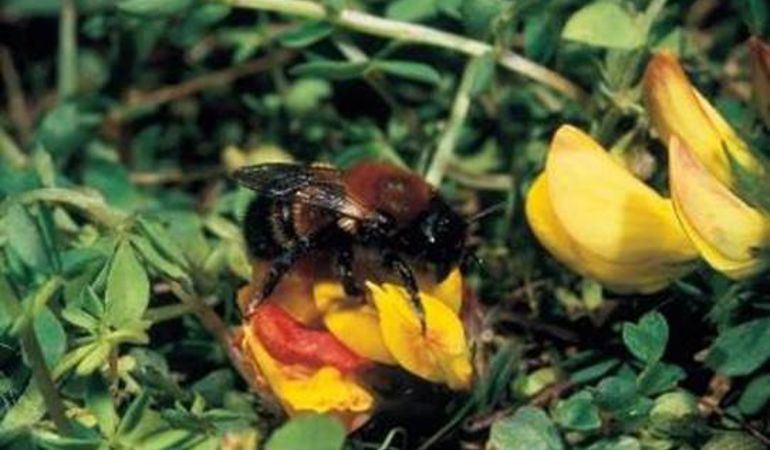 It may be far from the warm weather normally associated with bees, but it's the perfect time for Natural Resources Wales (NRW) to help improve the habitat for one of the UK's most endangered bee species.
The Large Mason Bee (Osmia xanthomelana), once widespread in England, was eventually reduced to a single site on the Isle of Wight where it was last seen in 1994.
It had been recorded at a handful of sites in north Wales between 1898 and 1921 but was not seen again until 1998 at Porth Ceiriad and 1999 at Porth Neigwl on the Llyn peninsula.
The bees can still be found at both sites - the only remaining sites in the UK.
But populations are small, numbering no more than 50 adult females, and they are very vulnerable to extinction. Females nest in sandy soft cliffs which can be lost quickly to erosion and sudden landslips, the likely cause of its demise on the Isle of Wight.  
In an effort to reduce the risk of the Porth Neigwl population being lost to erosion, fifteen sandy banks were excavated further inland from the cliff top in 2011 to provide alternative nesting areas. Ten nests were recorded in one of these newly created habitats in the following spring.
This autumn, further work has been done to create a few more sandy banks and improve the original nesting banks.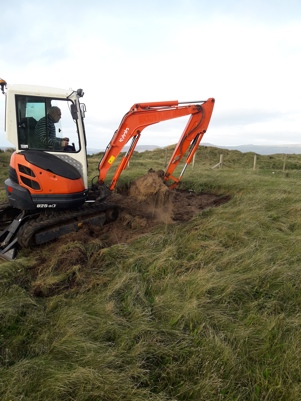 Dr Mike Howe, NRW Invertebrate Ecologist explained "We've been scraping small areas of turf off the top of a field in Porth Neigwl to create soft cliff face features to emulate the natural nest sites of the Large Mason Bee.
"We have now completed this phase of our habitat restoration works and hope the bees move to this new, safer area and hopefully increase the population size."
A recent report published by Buglife Cymru has highlighted that seven species of bee have already become extinct in Wales, with a further five species at a high risk of extinction. The Large Mason Bee is one of them.
Clare Dinham from Buglife Cymru said: "The Wales Threatened Bee report highlights declines in our wild bees. Whilst these may be alarming there are positive steps that can be taken to reverse these, such as restoring and connecting habitats.
"Nesting habitat is essential for solitary bees to complete their life-cycles. Work carried out by NRW to manage and create new nesting sites for the Large Mason Bee will help to secure the long-term success of this incredibly rare species on the Llyn Peninsula."
NRW is working alongside the Welsh Government Pollinator Task Force, to encourage more people to take steps to help conserve some of our most valuable creatures.
Worldwide, thousands of bee species are pollinators for a huge variety of plants. Every third mouthful of food we eat has been created by pollination.