Acorn Antics continues to grow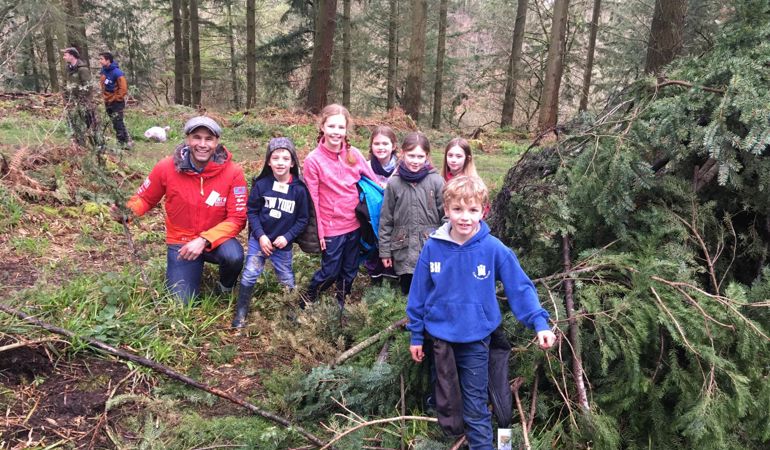 School children have been joined by Welsh adventurer Richard Parks to help plant oak trees which they collected as acorns and celebrate the first ever Wales Outdoor Learning Week.
Local children and landowners have spent the day planting young oaks in Pool Parc, part of Clocaenog Forest, for Natural Resources Wales (NRW).
The trees were grown from acorns collected by education and learning groups who took part in NRW's Acorn Antics campaign in 2016 and 2017.
The project helps NRW replant more Welsh oaks and gives young people the opportunity to learn about, and connect with, the natural environment in Wales.
As well as planting young oak trees the school children took part in a range of outdoor learning activities on the day with Plas Derw Trust in partnership with Techniquest.
Sue Williams, Senior Education and Skills Advisor for Natural Resources Wales, said:
"It is fantastic to see the Acorn Antics campaign go full circle with the children now planting the young oaks they collected as seeds, whilst learning about the environment at the same time.
"Evidence shows that learning outdoors improves knowledge and understanding and it helps us recognise the impact we have on the environment now and in the future.
"It can also improve our health and wellbeing by helping to guard against obesity, increase physical activity and reduce the symptoms of stress."
NRW will be planting 1,000 Acorn Antic oak trees in Pool Parc while 200,000 will also be planted across Wales.
This contributes to NRW's overall programme of planting around four million trees, made up of 35 different conifer and broadleaf species in Wales this year.
The event in Clocaenog also marks the first ever Wales Outdoor Learning week which was launched by NRW and the Wales Council for Outdoor Learning.
The campaign, from 1–7 April, encourages teachers, educators, learning groups and families across Wales to make outdoor learning part of everyday life. 
Learners and families across Wales have also been taking part in the campaign and sharing their activities on social media with #WalesOutdoorLearningWeek. 
Sue continued:
"We're really proud to work with our partners to help more people get outside and learn about their natural environment while helping to protect it at the same time.
"Education groups can use the great outdoors all year round to teach a wide range of subjects, from measuring trees in maths to studying sand dunes in geography.
"While families could try making bird feeders, creating natural art or going for a walk to see which animals or plants they can spot along the way."
People can find out more about the Wales Outdoor Learning Week and the Acorn Antics campaign on www.naturalresources.wales/learning.