Natural Resources Wales would like to invite you to attend one of the Supplier Engagement events for Direct Production Harvesting.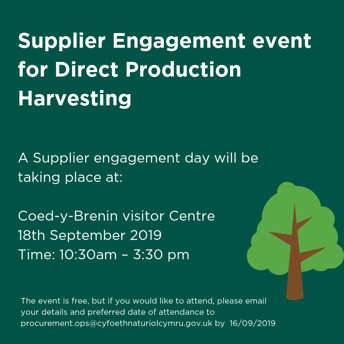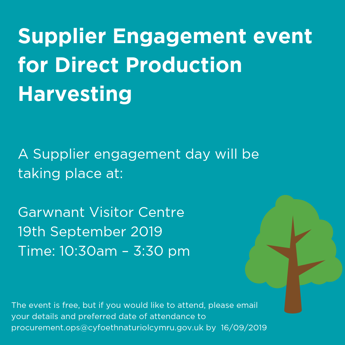 A supplier engagement event will be taking place at Coed-y-Brenin visitor centre 18th September 2019 Time 10:30am -3:30M. 
A supplier engagement event will be taking place at Garwnant visitor centre 19th September 2019 10:30am -3:30M. 
The event is free but if you would like at attend, please email your details and preferred date of attendance to procurement@cyfoethnaturiolcymru.gov.uk 
NRW require a Direct Production Harvesting Service, which includes felling, processing and extraction of trees to roadside, to support roadside timber contracts.  Once the present framework has expired, NRW will be awarding contracts through a Dynamic Purchasing System (DPS) to successful contractors who will plan harvesting operations across Wales. 
NRW wish to invite interested suppliers to the engagement sessions to discuss the forthcoming Direct Production Harvesting (DPS) tender process, and future work programmes. 
The event will be a 'drop in' event, so there will be no set agenda.  However, suppliers will be expected to register on arrival, and information on the Dynamic Purchasing System will be available.  There will be an opportunity for informal discussion with Business Wales and NRW representatives to discuss the project requirements, and to learn of the assistance available.
To attend this free event you will need to e-mail your details to and your preferred option to:
procurement.ops@cyfoethnaturiolcymru.gov.uk before the 16/09/19.