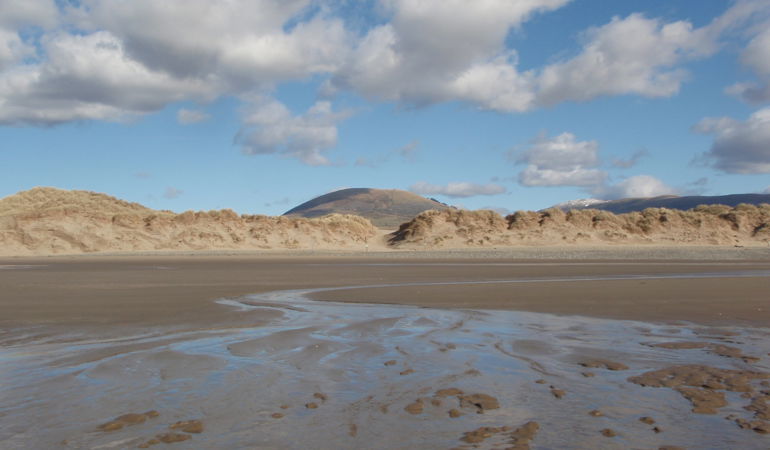 With over 70 National Nature Reserves in Wales, we are all only a few miles away from a special place to discover nature.
Our colleagues working to look after the National Nature Reserves (NNR) have got together to write a blog, bringing you the latest news and goings on from a different site each month.
This month's blog is from Rhodri Dafydd, Senior Reserves Manager for Morfa Harlech and Morfa Dyffryn, North Wales...
Sit back, close your eyes, and imagine standing on sand dunes.
I'm sure the majority of you would imagine an idyllic scene of white sand, a few wisps of marram grass, blue skies and balmy temperatures – the quintessential summer experience.
How wonderful it must be to work in such an environment…
Now, close your eyes again, and imagine yourself there in January. Wind-chill is -2 and all that wonderful sand which you usually feel between your toes is now being blown into your eyes, and indeed through any gap in your carefully selected Personal Protective Equipment!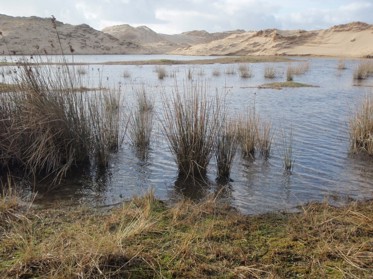 The sand beneath your feet is frozen so that the slopes are like sculpted concrete. Instead of floating through those flower-rich dune slacks of midsummer, you're wading through freezing water that will inevitably overtop your wellies and ensure your feet are like two blocks of ice by the time you get back to the van.
I jest of course! (Although I'm not exaggerating the weather conditions, they can of course be quite harsh – and all of the above happens to me on a regular basis!)
The sand dunes of our National Nature Reserves are wonderful at any time of year
There is never a dull day, and in fact some of the most memorable wildlife experiences can be had in winter.
Coming across a flock of feeding chough for example, disturbing a grazing hare, or perhaps catching a glimpse of an overwintering hen harrier hunting the periphery of the saltmarsh.
The added bonus of course is that they're more or less devoid of people in winter - so enjoying some solitude, and a sense of open, wild space, is more possible than ever.
Yes, winter in the dunes has its own magic
The very extremities of winter on the coast – strong winds, stormy waves, and flooded dune slacks after the rains – are of course what create and help to maintain this most dynamic of habitats. I think experiencing them should also be an integral part of understanding these complicated areas.
Working with others for research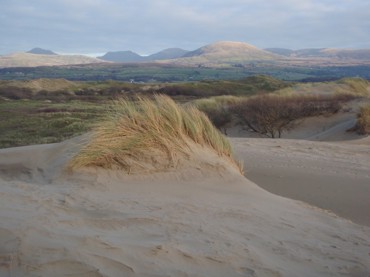 Whilst we regularly gather some environmental data ourselves, our National Nature Reserves are particularly important as sites where research of international importance regularly takes place.
At Morfa Dyffryn is a great study site and we are currently involved in developing a research project with Hope College, Michigan, and Liverpool Hope University.
We are looking at sand dune 'blowout dynamics' (ie looking at the impact wind has in shaping our dunes). A team of researchers from the US are preparing to visit the site in June to begin conducting numerous experiments, and gather a range of environmental data.
Morfa Dyffryn has also been identified as one of the only sand dune systems left in Wales with a large amount of natural bare sand conditions (which basically means open sand, without or with only sparse vegetation). Many special dune plants and invertebrates require 'open' conditions within the sand dune system.
We have lost this from other dune systems over the years as dunes have become vegetated, and bare sand is a feature which we have realised is of prime importance in European terms.
We are now seeking to emulate this feature on other dune systems through artificial means. Duncan's blog from May 2016 talks about some of the work carried out at Merthyr Mawr for example.
I'm looking forward to seeing this site continue to contribute to the world knowledge on sand dunes, and the processes that affect them.
Morfa Harlech is forming part of the 'Sands of Life' NRW bid for European LIFE funding to restore our dunes to favourable conservation status. We should shortly expect to hear whether it was successful or not! There is also a possible partnership with Natural England to secure funding for conservation projects.
There are certainly exciting times ahead for Welsh sand dunes which are more relevant than ever on the world stage!
Visiting Morfa Dyffryn and Morfa Harlech
We welcome careful visitors to these nature reserves - find out more about the area via our website.