If you don't like the weather, wait an hour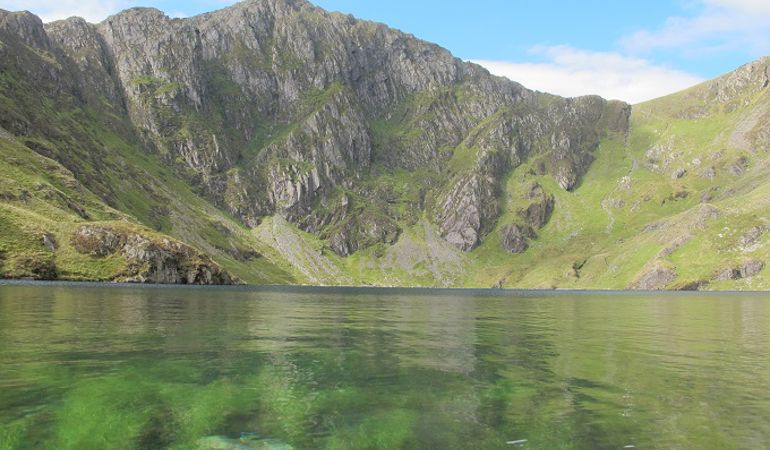 Each month our teams write a blog about the special places they look after. Here, Paul Williams, our Senior Reserves Manager, Meirionnydd Uplands, takes you on a walk through Cadair Idris National Nature Reserve.
I'm often told that I have the best job in the world; usually whilst talking to visitors on a sunny summer's day on the slopes of iconic Cadair Idris.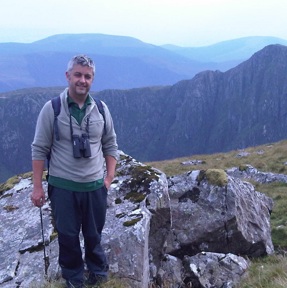 I joke that, before they make any life-changing decisions, they should come back in December to see if they still feel the same way about upland fieldwork! Another remark often heard is that if you don't like the weather here, just wait an hour.
This was certainly my experience during my latest outing to Cwm Cau, in the heart of Cadair Idris NNR, on the last day of November.
A cold wind, laden with fine, driven snow greeted me at the furthest point of my journey to the glacial moraine (the natural dam left by the retreating glacier) on the eastern shore of Llyn Cau. This is one of Wales' deepest natural lakes, sitting in a classic circular cwm or cirque, almost surrounded by a horseshoe of tall crags and cliffs.
The summits were already dressed with a thin covering of snow, but at 460m the flurry was short-lived, turning first to hail, before petering out.
I had several tasks to do, including my visit to Cwm Cau with Rory, who was spending four days on Cadair Idris undertaking a detailed survey for montane mosses. He's a hardy fieldworker and is used to the changeable conditions in our mountains. After pointing out the less acidic ledges and rocks most likely to be productive hunting grounds, I felt both guilt and relief as I turned to lower ground leaving him to continue upward alone.
Soon after, a respite in the wind and parting clouds reveal some blue sky. The warm sun illuminating the south-facing bare volcanic boulders and the sparkling cascades of Waun Bistyll, whose waters disappear into a wide fan of hard grey scree, only to reappear as streams in the grassland at the foot of the slopes.
Nant Cadair, the stream that drains Llyn Cau is at its laziest here, meandering through a peaty valley, before it turns southward, to dramatically surge and tumble through a steep, narrow wooded gorge.
Overhead, a flock of fieldfares are looking for the last berries on the few mature rowan and hawthorn trees on the open mountain.
The increase of rowan saplings surviving amongst the heather suggests that our new light, summer grazing regime is paying dividends for the mosaic of habitats found here. And the prospect of a slowly expanding woodland edge is very exciting.
The hope in the long term is that the rarer arctic-alpine plants, currently restricted to a small number of inaccessible ledges and cliffs, will be able to expand downward and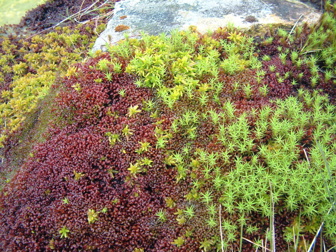 thrive.
Making a mental note to return with an appropriate ditching spade, I clear a few of the drains in the well beaten track with the sole and heel of my right boot, to deflect some of the water away from the path. Hopefully this will discourage walkers from detouring into the vegetation to avoid wet sections.
We work closely with the Snowdonia National Park Authority to maintain the network of paths at Cadair Idris, not only for health and safety reasons, but also to protect the adjacent habitats from the inevitable erosion that arises from thousands of pairs of feet and spiked walking sticks.
As if conspiring with a steady increase in visitor numbers, an increase in rainfall and surface water means that mountain paths are taking a bit of a hammering.
My last planned job for the day was measuring the rainfall at the permanent gauge on the NNR, for November; a job I share with Phil, a long-serving volunteer warden.
It was just over 17 inches of rain this time. That after 20 inches the previous month, and another generally wet summer. The trend since we started measuring at Cwm Cau in 1981 has been steadily upward.
I reflect on this on the last leg of my return journey, through the lush oak woodland at the bottom of the Minffordd path - our very own Celtic rainforest.
We get more than 200 days of rain here every year, and the water flows rapidly over a series of waterfalls, creating a persistent humidity, held hanging in the air by the woodland canopy. This humidity is essential for an assemblage of very rare mosses and liverworts for which this gorge, and a handful of other ravines in Gwynedd, are internationally important.
As I reach the visitor centre and a dry pair of socks and boots, far from complaining about the weather, I celebrate what is partly responsible for making Cadair Idris National Nature Reserve such a special place to visit. And work. Yes - sometimes, I do have the best job in the world.
Follow @WardenCadair on Twitter for more news from our upland NNRs, or visit our web pages to find information about visiting Cadair Idris for yourself, including maps and seasonal highlights.