Visitor Safety in the Countryside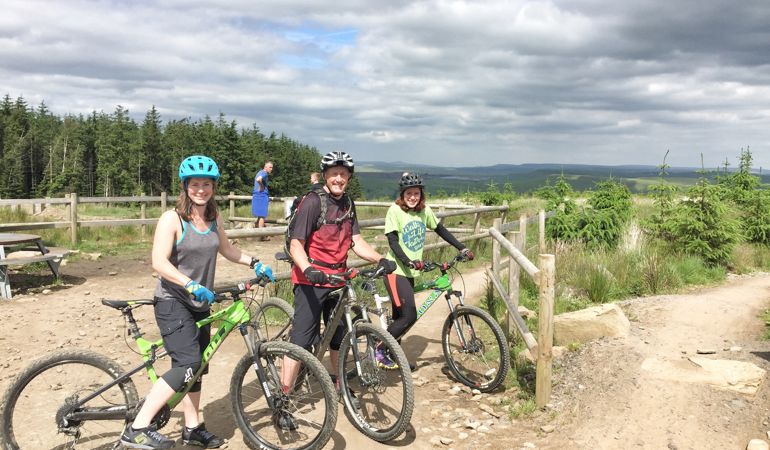 We have around 4.5million people visit our sites across Wales each year. This means there are roughly 1500 people enjoying our forests, nature reserves and visitors centres right now.
Whatever the reason for visiting these beautiful places, we always have to do our best to keep visitors safe without spoiling the area.
I was really pleased to arrange and host a two day workshop from the Visitor Safety in the Countryside group (VSCG), which is a forum of various land managers in UK and Ireland.
The aim of the group is to promote sensible, proportionate, reasonable and balanced guidance to owners on managing visitor safety.
We spent the first day of the workshop at BikePark Wales which is a public-private initiative on our estate. This was a great chance to see how safety is managed at a high profile downhill mountain bike facility.
It's not always about removing the risks
Visitor safety management is about balancing safety with what people want to experience – it's not about creating totally risk free society, or stopping important recreational or learning activities.
BikePark Wales is a good example because if they tried to remove or reduce the risks then it would mean dumbing down the trails, lowering or removing all the jumps. This would make for a very dull day out for those who want to experience an adrenaline pumping mountain bike trail!
Instead of removing the risks on these types of trails we aim to provide information to riders, at the site and on our website, about the trails and what they can expect.
Managing safety and conservation
Day 2 of the workshop was spent at Waterfall Country in the Brecon Beacons where we follow the VSCG Visitor Safety Principles. This gave us a chance to talk about how we consider visitor safety, while also taking into account the importance of conservation.
Several other VSCG members manage sites with similar risks to in Waterfall Country, like the Pembrokeshire Coast path and Skellig Michael off the Irish Coast.
If we fenced off and signposted all of the hazards at sites like this then it would detract from their special qualities, so we have to strike a balance.
Instead, we use information boards or interpretation panels which describe the various walking routes, any potential difficulties and how people can help reduce the risks - like being properly prepared and wearing the right kit.
Visitors are reminded of what's coming up later in their walk, and if they chose to proceed they will be able to fully enjoy the wildness of the site.
There are only some essential steps, boardwalk and location markers (to guide the mountain rescue and the helicopter!) beyond the final signs. Having pushed themselves in the fullest of knowledge this far, they can go as close the edge as they choose – or not. 
As we moves forward, we hope to apply the VSCG principles to all of our sites so we can manage public safety and becoming risk aware, not risk averse.
Sharing best practice between staff and partners will help us to strike the right balance between visitor safety, conservation, and the maintenance of the remarkable places that we manage.