Tweeting from the Rooftops
Sian Williams, Head of Operations North Wales is one of several members of staff who've embarked on a twitter project, here she discusses her first tentative steps into the big world of Twitter.
Strange as this may seem for somebody who is a bit of a technophobe, I have been learning all about social media over the past couple of months, and even stranger, I'm starting to enjoy it!
Along with a few colleagues from across the business, from my account @SianWilliamsNRW I been tweeting about work since Christmas.
I had some training from Elgan Hearn in the Comms team and along with a reading a document called something like "How to teach your Mum to use Twitter" (!) I took my first tentative steps online.
I have to admit it was a bit scary at the beginning, posting updates that the whole world can see, and getting messages about people I don't know "following" me.
But I'm getting used to it now, so hey come along and follow away, the more the merrier!
So why am I tweeting, and what do I tweet about?
Well, this was one thing I wasn't sure about at the beginning, after all we have an NRW twitter account @NatResWales and the Comms team do a great job of telling people what we're up to, so what can I say that's different?
The answer is quite a lot!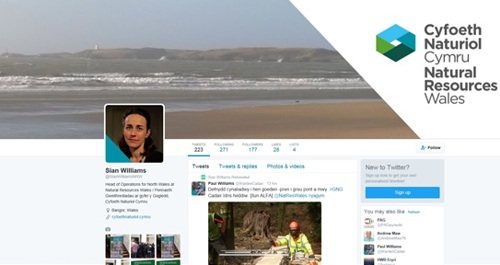 What I have found is that Twitter is a great tool for me and the team to use to get local messages out there, things that might not be picked up by the Comms team as they aren't necessarily high profile or National level news.
It also gives an opportunity to put a more personal slant on things – just a photo of one of our sites or our team doing their jobs may be day to day routine for us, but it is great to publicise this and show people the great things our teams do every day.
I have also started to develop better connections with local organisations, groups, Politicians, Councillors and so on.
Many of whom might prefer to engage with an individual rather than the whole organisation. They can tap into somebody close to them and engage via social media.
There are some down sides that I've learned too.
Twitter is global and public, so if somebody says something negative, it is out there and instantly seen by lots of people.
It is important that we manage these comments and respond quickly.
Times have changed from the days when we used to get letters and have a week to respond, then e-mail with a couple of days to respond.
In the world of Social Media, people often expect instant responses – this can be an advantage to us, but can be a disadvantage too if people don't get the instant response they want.
The number of people who have seen my tweets is staggering, and this is not me bragging, it is the reality of how powerful Social Media can be!
Social Media Influencer
In the last 28 days, my tweets have been seen 101,000 times, and the "Top Tweet", one showing our work on the tidal doors at Porthmadog, was viewed over 6200 times.
I have over 170 followers, and hope to build on this number over the coming months to help get more publicity for our day to day work and the great things we do.
Follow me on Twitter at @SianWilliamsNRW and share my tweets to help spread the word about our work
For staff in North Wales, send me your photos so that I can publicise your work.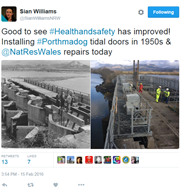 Other members of staff who are also busy tweeting about NRW are Ben Wilson, Nadia DeLonghi, Steve Morgan, Ali Chedgy, and Paul Williams.
Follow them on Twitter  @BenWilsNRW @NadiaDL_NRW @SteveMorganNRW @DyfiWardensNRW and @WardenCadair