Tree Planting – A race against time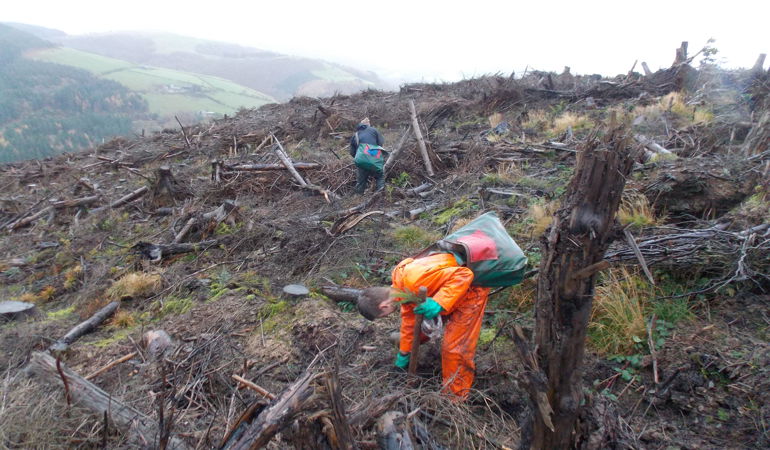 With the onset of autumn, the Wales Silvicultural Operations (WSO) team are gearing up for their busiest period of the year, as it is their responsibility to restock the Welsh Government Woodland Estate with some 4.4 million trees. 
It will be a race against time and the elements John Williams and his WSO colleagues as planting will have to be completed by the spring and the winter's heavy rain, frost and snow will all hamper the tree planting teams.
Stage one sees some 36,000 Sitka spruce trees, all individually packaged in a small paper cell, arrive at Abbey Cwm Hir, fresh from the Forestry Commission nursery at Delamere, in Cheshire.
All in a day's work
It would be a daunting prospect for most of us to even contemplate planting all these trees, but for felling contractors JBJ Tree Services, based in Carno, it's all in a day's work - well five days actually as the five strong team expect to plant all 36,000 trees in a week.
Then it will be on to the next site and the next until the team and NRW's many other tree planting teams will have completed about 1,400 hectares of restocking by mid-April (weather permitting).
Of course, we won't be planting just Sitka spruce as we will be using some 39 different species this season and even on the current site, we will have to come back early in 2016, to plant some Douglas fir, which will have a better chance of survival, if planted nearer to the spring.
Meanwhile, WSO Supervisor John is hoping that the mild autumn weather has finally come to an end as many of the forest plants he has ordered are waiting to be lifted from Delamere nursery and delivered to him as a bare-root product. 
The weather has to be cold
To do this the weather has to be cold enough to shut the plants down so that they have, in effect, stopped growing. 
To check this. the nursery carries out a 'Root Electrolyte test' and only when the checks show that the plant has reached a certain level of dormancy, can it then be lifted and despatched to the forest.
Our recent mild winters have seen nursery plants shutting down later and later and some plants have even failed to shut down completely all winter.
But it's a fine balancing act because even while John is hoping things turn colder so his plants arrive in the best possible condition, he doesn't want it so cold that the ground freezes and it becomes impossible to plant.