In a previous post, we promised to share with you our draft designs for the Natural Resources Wales website.
The new design and navigation complement and rely on each other.
The goal of all of this work is to let our readers and customers find the content they're looking for, without 'thinking' too much. It's at the heart of everything we're trying to do.
Transparent design
In itself, navigation is a critical aspect of good design. However, while brilliant navigation supports effective web design, it doesn't guarantee it.
Good design is obvious. Great design is transparent.Joe Sparano
Clear, simple signposting might help our readership find the correct information, ideally in as natural and intuitive a way as possible. Great. However, design seeks to anticipate and guide their content experience – and should continue to provide transparent support from the moment they visit the site, to the time they leave.
You've read your article – but where to now? Are other, relevant pages or resources close at hand? Can you ask a question, or complain? Where is that site search? Design uses a number of techniques to offer a valuable, and consistent, content experience.
What we've added
With a focus on content value and simplicity [which is a word you're going to hear a lot] what makes this design better than the current site? What are we changing?
- A clear language switch button

It's at the top. It's bigger. And it'll always be there.
Our 'global navigation' provides a short-cut to popular site pages
- Better global content links
These are the 'hot spot' links, the common page options that we know our customers look for time and time again. These are the links that you'll see on every page, no matter where you are in the site. Want to report something? Need to contact us? Interested in our project work? Looking for a job? Look no further.
- News and site highlights
Around 60% of our current homepage is dedicated to reporting on news items, only. In the new design, we will be able to flag anything we think our customers may be interested in. And news, of course.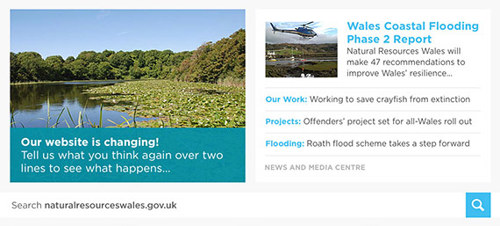 We've dedicated part of the homepage and landing page/s to breaking news and website features
- A very BIG search area
Most readers will submit a site search. This being the case, we don't want to hide it away. It's there – in plain sight – spanning the entire width of the page.
- Flood alerts
Another critical feature. Another BIG treatment. We think the enlarged flood alerts band works well, what do you think?

The flood alerts band has been enlarged across the width of the website
- Core navigation
Our new navigation is very obvious from the home page, with the themed 'chapters' front and centre. It's radically different to the old site. Comments welcome.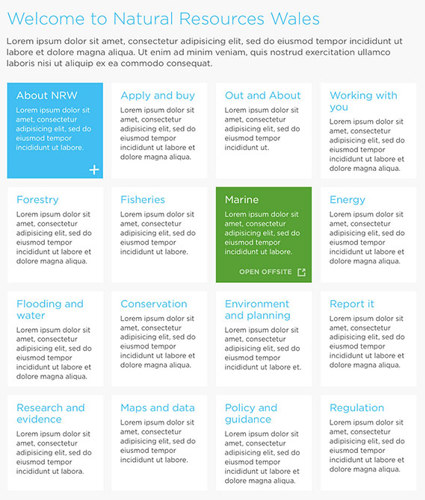 A mock of our core navigation tiles. Note the fact some tiles will allow you to link to external sites
- Social channels
Our social activity is really starting to heat-up, so again we've gone for big, colourful and simple to make it obvious to our customers, and easier for you to interact with us.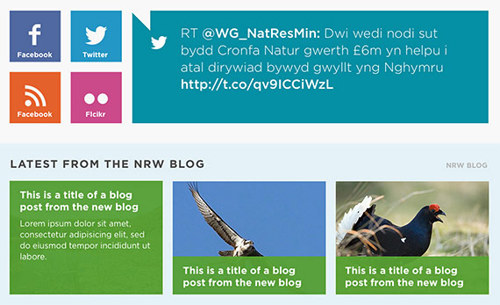 The website design emphasises our blog and social estate
- Blog activity
This blog is all about getting feedback from you – our customers – on whether our digital services are improving. What works (and what doesn't). So our blog space is prominent on our home page, next to the social buttons. A shameless plug, I know.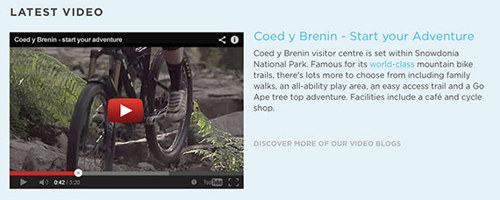 Videos from our YouTube channels will feature in the new look homepage
- Video space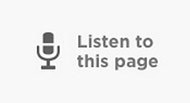 We've long wanted to make much more use of video in the site – be it associated with the blogs, or some of the other activity on our YouTube channel. Voilà.
Look out for our new 'Readspeaker' text-to-speech service
- A text-to-speech service
Look out for the 'listen to this page' button. Clicking the button will allow you to 'listen' to the page, instead of reading it.
- Site A-Z
We really want you to find stuff. So as well as the improved navigation and bigger search, we've added a back to basics A-Z.
- View the site in any device
One final shout. Originally, we were delaying a 'responsive' treatment – ie the technical term for a website that works equally well on smart phone, tablet or TV – until the big site launch next year. But we didn't want to wait that long [and we're guessing you didn't either]. When we roll out these improvements in August, you'll be able to interrogate the website from any device.
What do you think?
The Natural Resources Wales site will continue to evolve. We think these improvements will make a difference to your experience on our site, but we'd really like to know what YOU think.
Stay with us, and do let us know what you think about the designs. Until next week.