New River Levels Online service is now LIVE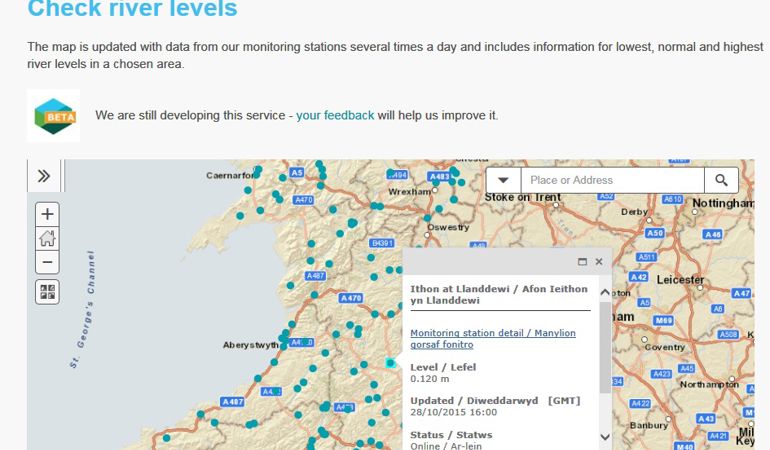 We are now displaying river level data from sites around Wales on our website. So if you live in an area at risk of flooding, or if you just want to check the fishing conditions, visit our new River Levels Online service.
The river level data that we collect has many applications, both within NRW, and by the Welsh public. You can use it to decide how to respond to a flood event, or to see if levels are suitable for fishing or kayaking. Until now this information has been made available through the Environment Agency's website. But from today (4 November, 2015) we are making the most up to date river level information available on our River Levels Online service, accessible through this website.
Over the past few months a team of people have been busy designing, building and testing the service, which makes it easy to find and view river level information from our sites across Wales. The information can be accessed using the interactive map or by searching the monitoring stations summary. On each monitoring station page you will find the most up to date river level information presented clearly on a graph.
Within the National Hydrometry and Telemetry team our role has been to specify the design and functionality of the new service, and to develop a data management solution to control how the data is transferred to, and displayed by River levels online. Having used the Environment Agency's service for a number of years we'd had plenty of time to identify its pros and cons and come up with some ideas for improvements. Luckily, we have had a great project team who have worked hard to develop these ideas and make them a reality.
This first phase of development has ensured that basic river level information is available to replace the information that was on the Environment Agency's website, while also implementing a number of improvements. We've launched the service in BETA to gather feedback that will help us improve how we develop the service in future.
So if you are interested in river levels around Wales, visit River Levels Online and let us know what you think – be it good or bad - by using the Feedback button.