The hidden world of seals….by Dr Tom Stringell, Senior Marine Mammal Ecologist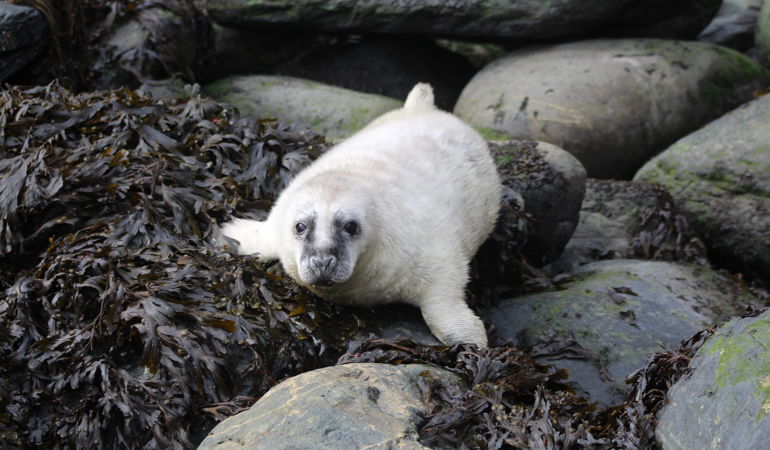 Autumn. The time of year when white-coated grey seal pups are born....But seeing them is challenging. These shy creatures usually inhabit remote parts of our coastline, far away from people.
Here in Wales, our grey seals use the most secluded spots of all! About half of all pups are born in caves - an unusual phenomenon which makes it quite a challenge – and a wonderful experience- to count them!
This year, for the first time for over a decade, we are undertaking a grey seal pupping census in North Wales. This involves visiting remote sea caves by kayak. In these cold, dark, wave ravaged and private habitats, seals and pups rest in the corners, under overhangs or sometimes up high on rocky ledges.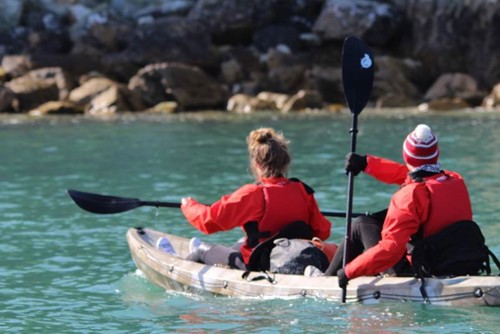 It takes a herculean effort to visit every possible pupping site between Aberystwyth and the Dee estuary between September and December. But our surveyors are well equipped to get to these spectaculars places. And they are rewarded with a rare insight into a natural world hidden from most of us.
Why count seals?
Grey seals are a protected species and a feature of three Special Areas of Conservation (SAC) in Wales - the Pembrokeshire Marine, Cardigan Bay and Pen Llyn a'r Sarnau SACs. We monitor the seals to report on how they're doing. The more we know about these enigmatic creatures, the better we can advise Government and others on matters that could impact them, helping to conserve them into the future and make sure their habitats are protected.
So how is it looking so far….?
We're a month into the census and we've so far counted 80 pups. There are about two months to go so we expect to exceed previous counts of about 100 in the whole season. Most pups have been found on the Llyn Peninsula, with Bardsey Island taking the crown so far.
The bigger picture…
Seals in Wales are part of a much wider population or network of connected colonies in South West Britain and Ireland. Through satellite tracking and photo identification, we know that seals and pups from all over Wales visit other locations in the Irish Sea and beyond.
But we also know that seals return to the same sites to breed year after year. This population structuring means it's essential to monitor and assess the population at broader scales than just inside SACs or at single colonies.
In Scotland and Eastern England, where most of the UK's grey seal populations live, aerial surveys are used to rapidly survey large areas of coastline. But here in Wales, with our seals hiding away in sea caves, aerial surveys would miss half the pups and pupping sites. That's why we pay them a personal visit.…!
Want to find out more?
You can read about previous seal surveys in North Wales here:
When aerial surveys will not do: grey seal pup production in cryptic habitats of Wales.
Journal of the Marine Biological Association of the United Kingdom. 94 (6): 1155-1159. Stringell TB, Millar CP, Sanderson WG, Westcott SM, McMath MJ (2014)
Available at: https://www.cambridge.org/core/journals/journal-of-the-marine-biological-association-of-the-united-kingdom/article/div-classtitlewhen-aerial-surveys-will-not-do-grey-seal-pup-production-in-cryptic-habitats-of-walesdiv/38CBADE1F241AB819A2EA0E157D4084B
And: https://www.researchgate.net/publication/256843124_When_aerial_surveys_will_not_do_Grey_seal_pup_production_in_cryptic_habitats_of_Wales
 Westcott SM, Stringell TB (2003). Grey Seal Pup Production for North Wales, 2002. CCW Marine Monitoring Report No: 5a. Countryside Council for Wales, Bangor
Available at: https://www.researchgate.net/publication/256843609_Grey_seal_pup_production_for_North_Wales_2002
Your can also read about Pembrokeshire's seals here…https://naturalresources.wales/about-us/news-and-events/blogging-from-our-special-places/wild-seals-at-skomer-marine-conservation-zone/?lang=en