After a long dry summer, when I managed to develop the best tan on Welsh soils since 1999… I think we can safely say that summer is now finally over.
So I thought now would be a good time to update you on some of the ways you can keep informed about your flood risk online – through Twitter, Facebook, our website and mobile app.
Tweets and Twitter Alerts
By now I think our online followers expect that we will tweet regularly if there is a risk of flooding.
We manage the @NatResWales twitter account in the Communications team and work closely with our colleagues in flood forecasting so we can decide on the level of messaging needed. Floods can happen any time, so we have rotas in place for evenings and weekends too – Christmas Day and New Year's included.
Although we still issue press releases about flood risk, the forecast can often change very quickly.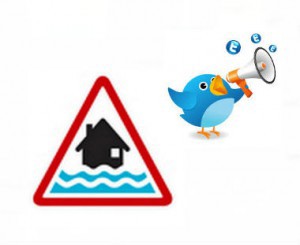 We use Twitter to post regular updates and encourage the media to follow us so they can update their news sites with the latest information too.
We also keep a close eye on accounts such as the police, the fire and rescue services and local authorities and retweet their updates.
People can also sign up for the Twitter Alerts service through our account. This means that when we issue a 'Severe Flood Warning' people will receive a push notification on their phone (more about what our flood warning codes mean on our website).
A new Facebook page to help people be prepared…
Our Flood Awareness Wales project now has a Flood Awareness Wales Facebook page.
It's still early days, but the aim of this page is to help communities across Wales develop flood plans so they are better prepared for when a flood happens.
We hope it will be a great place for flood plan leads and wardens to share info and learn from each other.
Flood warning app – on your phone….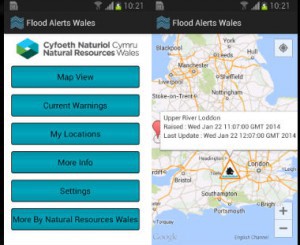 The Flood Alerts app was developed by our Cyfoeth apprentices with the help of our more experienced ICT developers.
It's available from the Windows and Google store for Android phones so that you can stay connected and receive your flood alerts and warnings on the go.
If you use an iPhone I'm afraid it's not currently available, but there is an alternative that was developed by a third party – 'Flood Alerts'.
The good news is that our Flood Alerts App will be available in November for iPhone users.
Live flood warnings map – now on our website
And last but not least, we now have a live flood map on our website. This map was developed by Shoothill using Natural Resources Wales and Environment Agency flood warning data.
You can search by postcode, area, county and by MP/AM constituency and see if there are warnings or alerts active on an easy to view map.
As we've mentioned in other posts on this blog, we still have a lot of work ahead of us in developing our website and other online services.
We hope you will find our online tools helpful to keep updated about flooding issues. For those not online, people can still call Floodline on 0345 988 1188 and register to receive flood warnings via phone, text and email too.
It would be great to hear what you think as we're constantly reviewing and looking for new ways we can do things online.