At long last Spring has sprung and with the weather improving we need to make the most of it so why not get the family active outside for some easy, free entertainment?
Your local woodland, nature reserve, beach and park are probably starting to show their spring colours and are great places to go exploring. 
Investigating the wildlife in your area or further afield, is a great way to engage young and old in the natural world, so get everyone involved in counting and identifying how many different species of plants, birds, bugs and other animals they can see on their adventure.
Older children might like to design a tally chart to take with them to capture their "finds" or you could take photos along the way to see who can find the most. If you have a smart phone there are lots of apps you can download to make on the spot ID easier.
Bluebell hunt
Wild flowers such as our beautiful native bluebells are starting to show. You might notice that they are a slightly more intense colour than the Spanish variation that you might see in gardens. They have bendy stems with fewer delicate bell like flowers. These natives are protected so make sure the little ones don't pick them! Did you know that Romans used to use the crushed seed heads that form after the flowers are finished as an antiseptic type of soap?
Leaf or flower bashing?
A great way to get your family into learning some identification skills is to get them involved in a bit of natural art!
When out on your adventure look for fallen leaves or flowers on the floor. Does anyone know what plants/trees they come from? Take a photo so you can look them up at home. Try not to pick any leaves or flowers for this activity unless they are from your garden.
You can have your art attack while out and about if you prep beforehand or you can bring your collect home and try this activity there.
You need a piece of white cloth from an old sheet or pillow case cut into a small square for each person
Place your flowers/leaves on one side of the flattened out cloth and then fold it in half to cover them
Using a small hammer, flat rock or a heavy stick, have the children pound the item into the cloth. Ideally, you will need a flat surface to do this on such as a path or tree stump
Open up the cloth and you should find that the leaves/flowers have stained the material
Try using different shades and colours to create a unique impressionist style painting
You can save the picture or when appropriate wash the cloth to use again and again
Now that all the chocolate eggs have been gobbled up, why not think about eggs from another angle?
Nest Building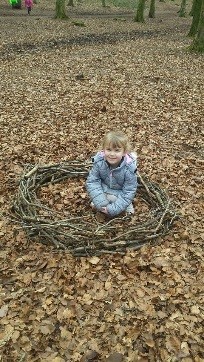 A fun activity to try is nest building. If you watch the birds closely at this time of year you can often spot them flying back and forth carrying small twigs etc. to keep their nests in good condition for their families.
Talk about the birds you can see and think about how they survive in that environment. Where do they sleep, lay eggs and what might they eat?
Then use lose, natural materials that you find on the floor to make nests. If the children want to get messy let them use mud to stick the nests together. Can you find anything to make them soft for the eggs?
You could even build a giant nest if you are in an area with a lot of deadwood available.
Seashore Safari
You can look for eggs of another kind if you go on a Seashore Safari.
This time of year sees ocean creatures spawning so fish eggs such as mermaids purses (shark egg cases) wash up on the strand line. By finding mermaid's purses and sending off any information to the Shark Trust, you can help shark conservation.
A tip to help you on your egg case hunt is to really slow down so you can get you "eye in" and you might be surprised at what you can find….. 
For family friendly, conservation linked, Citizen Science project or surveys such as bug counts, that you could do on your day of adventure try these websites:
http://www.opalexplorenature.org/