Proud to carry the FSC® stamp of approval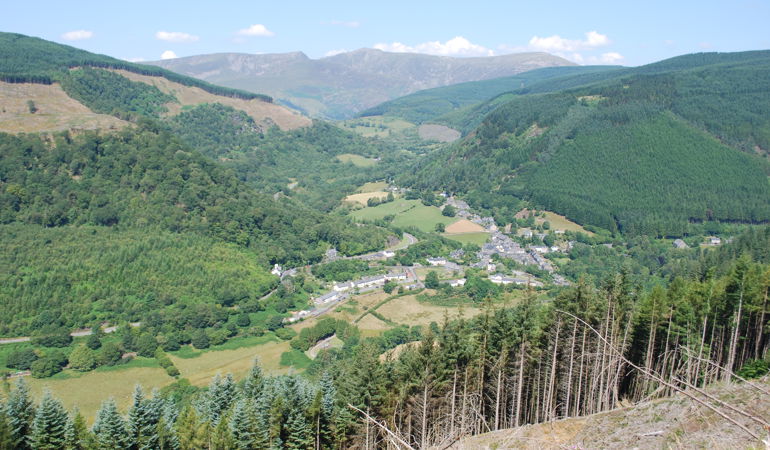 Did you know that we manage the Welsh Government Woodland Estate (WGWE) which covers 126,000 hectares?
Did you also know that the timber within the WGWE, and any products it produces, is certified as sustainable?
Today (30 September 2016), the Forest Stewardship Council® (FSC®) will be holding their annual celebration of responsible forestry with FSC Friday.
FSC certificate holders, members, and partners are hosting a series of events around the world designed to celebrate and raise awareness about responsible forest management and the role that FSC plays in it.
I thought I'd take this opportunity to tell you a bit about FSC and the woodland estate we manage.
So what is the Forest Stewardship Council (FSC)?
It's a forest certification system that means consumers can be sure that wood, paper, and other forest products are from a sustainable source. So if you buy something with the FSC label, you know this is made with wood that comes from FSC certified forests.
We've carried the FSC 'stamp of approval' since November 1999 and we are proud to manage, process and distribute the timber in Wales to the highest social and environmental standards. Our FSC licence code is FSC-C115912).
We also meet the United Kingdom Woodland Assurance Standard (UKWAS) which is the FSC-UK's endorsed forest management standard for the UK.
Managing Welsh forests to meet the FSC standards
With so many hectares of land to look after, it is important that we manage woodlands and forests to deliver the sustainable management of natural resources. FSC certification fits well with this because it covers the same social, economic and environmental criteria.
We have committed to maintaining our UKWAS and FSC certifications so that we continue to manage our woodlands and forest sustainably, and can trade our forest products as certified.
Our forest management processes are fully assessed every 5 years with annual surveillance audits in between. The next audit is due to take place during the week commencing 28th November, concentrating in the South West area.
The assessment will look at a range of our processes and procedures relating to human resources, stakeholder engagement, communications and our corporate assets where these affect forest management.
So when you purchase any forest products look out for the FSC logo for reassurance that you are supporting sustainable forest management, and it may have been sourced from the woodlands we manage.
Forestry Facts
The Welsh Government Woodland Estate covers nearly 6% of the country's total land area – so we are the largest land manager in Wales
We are also the largest supplier of certified timber in Wales
Around 850,000 tonnes of timber are sustainably sourced from the WGWE each year - this directly supports thousands of jobs and contributes to the Welsh economy
Our timber makes up 60% of the welsh timber processing sector
As a value to UK economy, timber is a similar size to steel - however, the UK are the 3rd largest importer of wood in the world, and still import over 80% of the wood and wood products consumed
We don't just manage the WGWE for timber – we are also the biggest providers of outdoor recreation in Wales