Preparing Welsh forests for Wales Rally GB
Mike Whitley, Land Management Team Leader for the north east, talks you through how we prepare for the largest and most high profile motor rally in the world.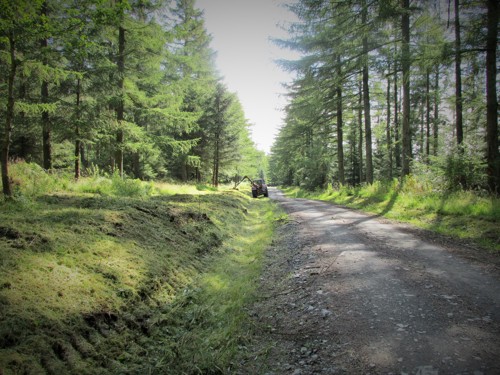 We manage some of the most legendary forest roads in Wales. These roads are revered in the world of rallying, and we look after 282 kilometres out of a total of 310. This is of 91% of the entire Wales Rally GB route.
The woodlands we manage are vitally important for people, the environment and the economy of Wales. This beautiful backdrop is an epic setting for world famous rally teams to compete at the highest level but they are also used for mountain biking, outdoor learning, walking and much more.
Planning for any event is really important, and it begins by reviewing the proposed route and programme dates before granting permission for Wales Rally GB to use the land.
While hopeful competitors are submitting their entries for a chance to compete, our teams are already thoroughly checking the route for obstructions and clearing away any undergrowth. This is to secure the best and safest viewing points which are identified by the rally organisers for spectators to watch their favourite driver race past. Welsh forests are home to an amazing variety of plants and animals so we need to ensure that our work is sympathetic to the natural environment.
Our forests are also vitally important for the commercial timber industry in Wales, with around 850,000 tonnes of timber sourced from these forests each year. Our Forest Operations team must prepare for the event by closing all harvesting and haulage on the rally route for one week before the rally begins. Our customers, contractors and teams work together to make sure that timber equipment is removed and the sites are clear for the event.
The rally roads themselves are arguably one of the most important aspects of the event for the competitors. As each navigator is memorising the rally route and preparing their pace notes, our Civil Engineering team will have driven the whole route several times to check for pot holes and defects. Grading machines are brought in to mend any damage and prepare the surface for the high speed action.
Preparation work on the rally roads begins in early September and continues right up until November, followed by restoration works starting immediately after the rally.
When November arrives the final route inspections are completed and we give access for the rally organisers to set up advertising banners and communication points.
We are ready once again to host the world's most famous rally drivers and navigators as they descend upon Wales. We hope that everyone enjoys their time in our forests, but we ask for everyone do so safely and responsibly.