Positive flood awareness event
With one in six people in Wales living or working in an area at risk of flooding and extreme flood events becoming more frequent, we're supporting the growing network of Flood Wardens who play a crucial role in increasing their local community's resilience to flooding.
Flood Wardens from all across Wales shared their experiences and knowledge at an event held recently by Natural Resources Wales in Llandudno.
There, wardens met with representatives from emergency services, flood authorities and voluntary organisations, to discuss exactly what their role should be before, during and after a flood.
They also took part in workshops to discuss best practice in keeping themselves safe and also the difficult decisions facing flood authorities and emergency services when having to choose where to send valuable resources.
Harnessing the power of social media
We use our Twitter account @NatResWales to update people about flood risk and point people towards live flood warnings on our website.
One volunteer has set up his own website to keep people informed about flooding risks.
Barry Griffiths from Kinmel Bay has been a volunteer for 26 years.
At the event, he explained how useful websites and social media can be to raise awareness in communities.
Having set up his own website, Kinmel Bay Flood Defence Plan, he is now busy harnessing the power of social media by setting up pages for his own flood group and helping others across the country.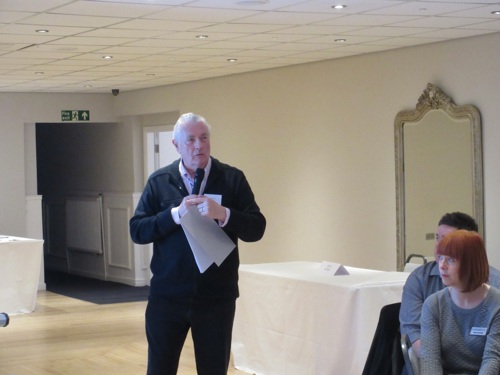 Barry explained: "It all started 26 years ago when my house was affected by the Towyn floods."
"It started out as a personal interest as I could see the potential in tidal energy projects working hand in hand with coastal defences.
"But as I started to realise the impact that floods can have, this changed to an interest for the wider community.
He added: "I think most people don't really take an interest in flooding until it actually happens to them.
"To begin with the website was an experiment to try and become more inclusive.
"We have seven or eight wardens for an area population of 7,000, so it would take hours to try and look in on everyone.
"Although, according to reports, almost 30% of people have no access to the internet or take no interest, the vast majority of people do. "It's a very quick way to communicate and spread the word, it enhances what we do."
Learning curve
Jill Bullen is a Flood Warden for Borth and Ynyslas and works for Natural Resources Wales as a Senior Landscape Specialist, based in Aberystwyth.
Jill said:"I've been a flood warden for about three years.
"I joined Borth Community Council and we used to receive correspondence that asked us to update our floodplan.
"We've now updated and widened the flood plan to become an emergency plan that can deal with several situations such as power cuts and extreme weather such as snow.
"Every time we deal with an emergency we learn lessons and update our plan, so it's become a living document.
"The latest part we're updating is to designate flood warden areas into zones.
"We talk about zones rather than using street or local names, as some people are not familiar with these.
"The event has been really helpful not just to meet and talk to other flood wardens, but also to pick up information and different ways of doing things that could be better."
Met Office records, going back to 1910, show that Wales had the wettest December on record. Anyone can create a flood plan – you can download a template to create a plan to help your home, business or community be prepared for flooding.
For more information visit the Flood Awareness Wales Facebook page.