All the talk of bending iPhone 6 over recent weeks reminded me of our smartphone and tablet rollout at Natural Resources Wales and how it related to the Change Curve.
If you're not familiar with the psychological representation of how humans typically react to disruption in their life, then here is a little graphic…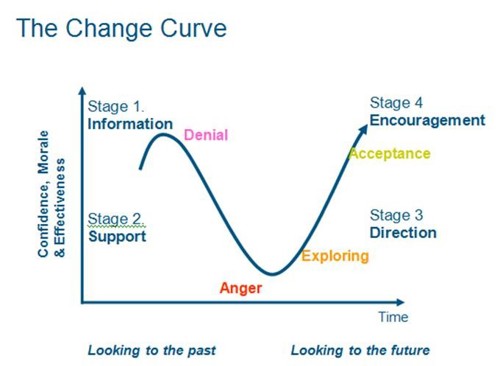 How the Curve works…
So, typically, when we get told something is happening, whether it be a change of desk location, new ICT, or moving to a new team, then our gut reaction is "There is no need for this to happen, I'm fine where I am, I'm going to fight this one."
Then, when we realise resistance is futile, we get angry, usually because we are forced to do something we don't want to. Thoughts such as "I hate my new desk, I hate my new system, my new team are weird" prevent us from moving on.
Then maybe we start exploring, perhaps make a new pal in the new team, get the hang of the new kit, or realise the new team do a Domino's Friday once a month!
Finally comes acceptance, and often a feeling of either "this isn't so bad" or hopefully "I like this much better", "my new team is great" often accompanied by a slight feeling of silliness and regret that we were so wedded to the past and so inflexible.
Why I hate the change curve…
I hate the Change curve. It riles me because it so accurate and even though I have been quite informed about it for many years, I realise that it completely reflects the journey I am on every single time there is a change. Mostly I realise half way through the curve, which grates on me a bit – maybe this is a conundrum and I am only just getting used to the Change Curve (have I just moved from Anger to Exploring?)
I am very stubborn too (though I prefer the term determined!) and get stuck around the denial and anger phase for much longer than most – see my Yammer blog for a good example of that. On the plus side, I ascend to acceptance and even advocate swiftly, albeit reluctantly at first.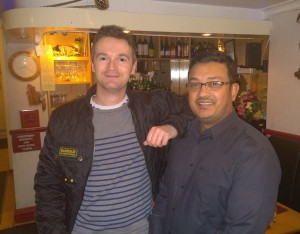 Just so you realise just how stuck in my ways I am, I have had the same curry every Sunday night, almost without fail, from the same place for about ten years. A couple of weeks ago, I couldn't make it and the next time I went there Mr Choudhary, the owner told me he was worried something had happened to me. He gives me Christmas and birthday presents too.
I also eat the same breakfast cereal every day, out of the same bowl with the same spoon – there are more examples, but you get the picture!
Joining my colleagues on the change curve
So the other week, I visited the Cilfynydd depot who were having the new tablets and smartphones rolled out.
To show solidarity with my colleagues, I surrendered my desktop PC and switched to a tablet myself.  It had been sitting there for three weeks on my desk, so I figured I'd better get out of the "Denial" phase.
As it was a change I inflicted on myself, the "Anger" phase was swifter, but not helped by being ill and having a fever, though I didn't break anything this time.
I'm definitely in the "Exploring" phase now and feel comfortable that I have a better appreciation of the journey staff are on. The staff in Cilfynydd all seemed very positive and clearly weren't too angry with the change, as they directed me to a nice café to pick up some lunch. It's different for everyone, but I wish I could move through the early phases as quick as some of the guys I met the other week.
It would be great to hear your thoughts about riding the change curve – especially if you're stubborn like me!