New guidance on improving access for all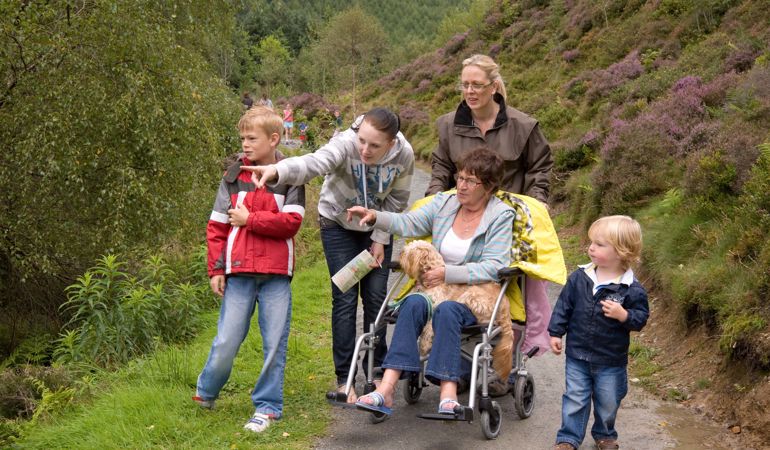 Creating more accessible places for more people.
Helping people live healthier and more fulfilled lives is a cornerstone of our work, as described in our recently published Well Being Objectives.
In order to make this a reality for a wider range of our customers and the people of Wales, we have developed some new guidance for land managers on the principles of least restrictive access to the outdoors.
Rachel Parry from the Recreation, Health, Wellbeing and Education team talks about the new guidance here.
By All Reasonable Means: Least Restrictive Access to the Outdoors
By All Reasonable Means: Least Restrictive Access to the Outdoors has been developed to further commit to ensuring that access to the countryside and open spaces is equally available to people of all ages, circumstances and backgrounds.
The aim is to provide a realistic, practical and effective approach to access improvements, creating more accessible places for more people.
The guidance looks at how to make trails, sites, facilities and associated information more accessible and inclusive and how to improve the experience at places that are already accessible.
It uses the 'Access Chain' to focus on access as a chain of events that start, for example, at home, where a decision to visit a site or route might be made, and to where a visitor returns to after experiencing the outdoors.
By providing a framework for improving access, the guidance encourages land managers to identify those standards and techniques that are most appropriate for a particular situation.
As well as setting out the principles for inclusive access to the outdoors, the guidance includes useful appendices such as access standards for different types of sites, links to relevant legislation and organisations, and guidance on path auditing and action planning.
Sam Carpenter, equality and diversity lead in Natural Resources Wales says:
"Open spaces are central features of local community life throughout Wales. They are where public life takes place, and where people can connect with the natural world and with each other. We know that the benefits of the outdoors are not equally available to all.
"People living with impairments and older people are especially impacted by physical barriers to access, while psychosocial barriers such as concerns about personal safety and uncertainty about feeling welcome are often reported by visitors who are transgender, female or from a black, Asian and minority ethnic group."
Jane Stoneham from the Sensory Trust added:
"This guide is designed to help you identify the barriers that prevent or dissuade people from visiting your sites, and how to remove or avoid them, often through small changes in design and management practices."
Background to commissioning the guidance
A few months ago colleagues managing some of our main visitor sites worked with Phil Chambers Consultancy to find out how inclusive our sites are for enabling everyone to enjoy the opportunities they offer.
The Equality and Diversity Assessment of these sites was designed to show whether people recognised as having 'protected characteristics' under the Equality Act 2010 were receiving equal services and opportunities.
A key recommendation from the report concerned the information and guidance we provide to our staff to ensure we consider all the protected characteristics at sites we manage.
A Project Board comprising members of the Recreation, Health and Education team and our Equalities lead commissioned the Sensory Trust to develop 'By All Reasonable Means – Least restrictive access to the outdoors'.
Find out more about the Equality and Diversity Assessment in my previous blog
Principle of least restrictive access
A key concept in this guidance is to ensure consideration of the 'least restrictive access' principle when planning access in the outdoors. This means, for example, that where possible barriers should be removed. If a gap in a boundary is possible, this is the ideal. If not, then aim for a gate, and only if this is not practical, put in a stile.
But making access as unrestrictive and inclusive as possible is not only about physical features on the ground, it is about what informs people's decision to visit, information they receive and how they experience a site once they get there. Some sites may have easy access trails, but some people may feel that they cannot easily find out about these opportunities and that information and communication links are barriers to access themselves. Others may find that trails created to be easy access for people less physically able are not easy access for them at all. For example, partially sighted visitors may have different needs.
Sharing this good practice guidance
We are looking forward to rolling out this guidance internally and externally for partners in local authorities and the voluntary sector.
We have put a one year review period on the guidance to enable people to give feedback on it as they use it. So please let us know if you have any suggestions for making this as useful as it can be.
Charlotte Barnett, guidance advisor, commented:
"Written in clear user friendly English and Welsh we hope this will set an example of good practice in guidance drafting."
For more information
 If you have any questions please get in touch with the Recreation, Health and Education team at recreationhealth.wellbeing@cyfoethnaturiolcymru.gov.uk
Related document downloads