MS Society award thanks to Allyn Hawkes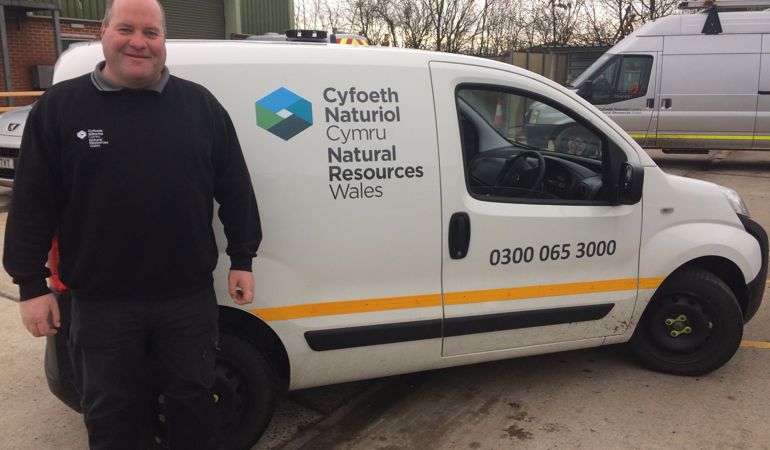 Some months ago Allyn Hawkes spoke on the BBC's Jason Mohammad show during a segment about multiple sclerosis in the workplace.
Allyn told the show about the positive experiences he's had at NRW and went on to nominate us for the MS Society's Employer of the Year award.
Well good news - we have won the award. So thank you to Allyn for nominating us and for Mark Sabine, Nye Cox and their team for supporting Allyn and helping keep a valued member of our staff in a job he loves.  
This is what he had to say about working for NRW:
I have been employed by Natural Resources Wales since 2003.
In 2012, I was diagnosed with Relapsing Remitting MS. I had given up and thought that my world was coming to an end but I had a meeting with my boss, Mark; he said that whatever happens I would be accommodated however long it would be. They gave me details of an employee assistance scheme with a free, confidential, support service for advice and counselling.
After the diagnosis, it took me a couple of months for it to hit home. Mark made a real effort to understand what I was facing. He asked for advice from our occupational health providers on how he could support me. He also did something pretty unusual. Mark and I visited my doctor together. 
Mark explained that he was keen to find out more about my condition and how he could help. I don't think my doctor had ever held a meeting like this before with a patient and his employer. The visit was useful and reassuring for all. My GP understood that I had a supportive employer. Mark was able to get reassurance that I was safe to continue in my role of excavator driver and drive at work. Things continued as normal for a while.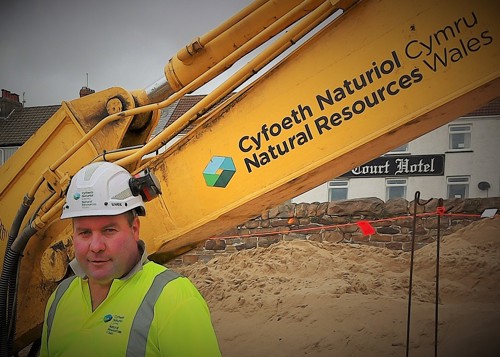 In 2014 I had a serious relapse and couldn't walk properly; I had to accept it.  Once again Natural Resources Wales were brilliant. They arranged to get my works van and I back to my house. Mark and another team leader visited me at home while I was on sick leave from work. They took me out for breakfast. My colleagues also came to see me. It was nice to know that they were still thinking about me.  I was able to find out what was going on in work and stay in touch.    
In May 2016 my colleagues participated in the annual three peaks challenge raising money for the local Swansea MS Society branch.  A team climbed Ben Nevis, Scafell Pike and Snowdon in under 23 hours including the driving. I went along to help with the driving and provide support for the walkers.  It was an amazing effort by participants who managed to raise £3,000.
During the summer of 2016, I was driving my work's van with my boss. As I was driving, I couldn't get my foot off the clutch. I knew then that I could no longer drive the manual van I was using. I've always done the same work, being outdoors and working on heavy plant machinery, chainsaws, excavators etc. is what I love doing but I also have weakness in my arm which makes it impossible to operate the machines.
Straight away things were put in place to find ways to support me. I was referred to occupational health again and was involved in the process of finding possible solutions.
Mark visited me at home again. He met my wife Sue and me and explained that changes were taking place in work and they were creating new supervisor roles. Mark told me how much I was valued and persuaded me to apply for one of the new roles. 
I was successful in the interviews and was given a new role as a supervisor which involves visiting sites, planning machinery, health and safety. I can't do a manual job anymore so the supervisor role was perfect. It was almost as if it had been designed around me. I feel so valued, I have a big input when I visit the sites.
Because of the difficulties I had with driving, a brand new automatic van worth almost £13,000 was bought for me. I also have the flexibility to take time off for appointments when I need to. The support I've had means so much to me - it may give me another 10-15 years in work.  I have a job to do which makes me feel better.
I'm nominating Natural Resources Wales for an MS Society award because, without their help, I wouldn't be employed in a job I love doing.  I'm proud of what they have done for me and I'm proud to be still doing a valued job for them.