Monster mower arrives in mid Wales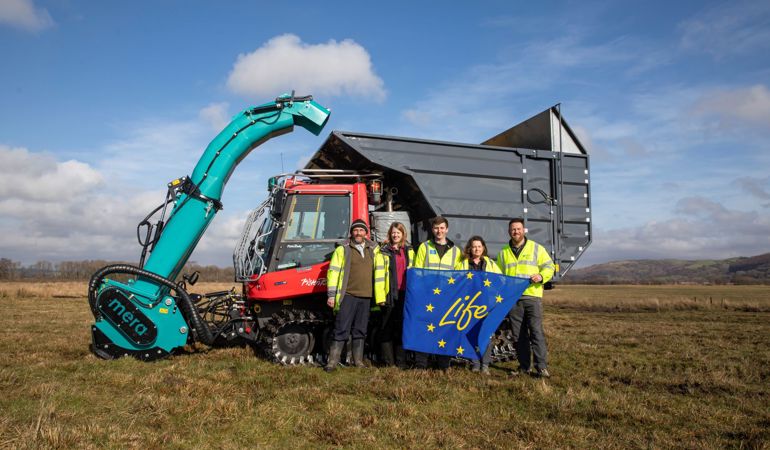 Last week the new LIFE Welsh Raised Bog project took delivery of their brand-new wetland harvester machine that will restore some of Wales' most important raised bog sites.
In this blog, Rhoswen Leonard, Project Officer for the LIFE Welsh Raised Bog project talks about the machine and how it will help the project over the next few years…
Raised bogs get their name because of their domed shape and are areas of peat that have built up over 12,000 years, they can be as deep as 12 metres in places. They are home to rare plants and animals, such as the large-heath butterfly and the iconic bog rosemary.
This important habitat has deteriorated over many decades as invasive plants such as purple moor-grass moved in. But this new purpose-built machine will help to cut back the invasive grasses which choke the native plants growing on these habitats.
Purple moor-grass dominates some parts of raised bogs due to previous wetland management methods. It smothers the special bog plant species and stops sphagnum (peat moss) from growing.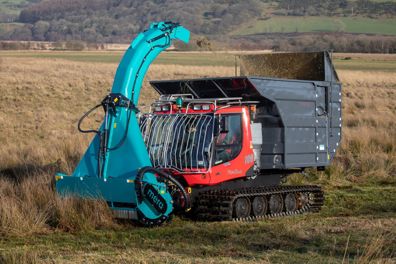 The machine will mow, treat and roll the moor-grass to create more open areas where peat moss will have space and light to grow and thrive once again. In the long run, restoring these raised bog sites will help fight climate change by creating new peat to lock in more carbon and improve water quality in local rivers.
The machine's wide tracks mean it can drive on the peat bog and reach areas that have been inaccessible in the past, and all without damaging the spongy mosses that make the sites so important.
The machine weighs 4.5 tonnes and is more than three metres tall and carries a range of tools for cutting and harvesting wetland vegetation, chipping timber and applying herbicide.
Work will start over the next few weeks on Cors Caron National Nature Reserve and will finish at the start of the bird breeding season in March. Work will start again later in the year once the breeding season has finished.
All of the work carried out will be on Special Areas of Conservation (SACs). These are environmentally sensitive sites legally protected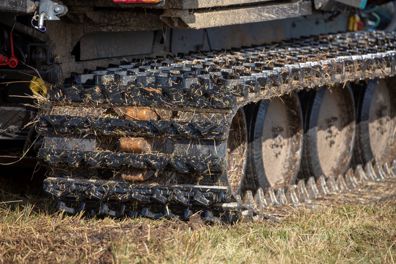 for their environmental interest. More restoration work is also planned for sites near Trawsfynydd, Fishguard, Crosshands, Crickhowell and Builth Wells.
Over the project's' lifetime the machine will aim to cut at least 75 hectares of purple moor-grass, which equates to 75 rugby pitches, and once the project is complete the machine will be used by Natural Resources Wales (NRW) to restore other similar sites across Wales.
The four-million-pound New LIFE for Welsh Raised Bogs project aims to restore almost four square miles of raised bog - one of Wales' rarest and most important habitats. Funding for the four-year project has been given to Natural Resources Wales (NRW) from an EU LIFE programme grant, with support from Welsh Government and Snowdonia National Park Authority.
You can keep up to date with the project on Facebook or Twitter.