Mapping our special sites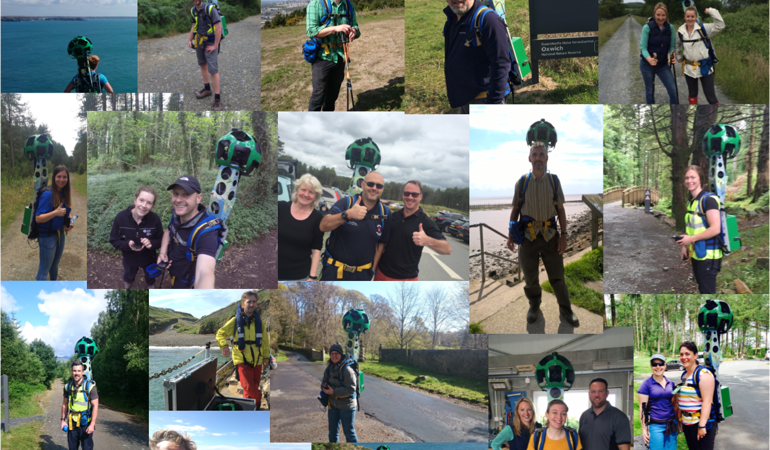 Have you ever been on Google Maps and picked up the yellow 'Pegman' to explore an area in Street View, only for the imagery to stop at the end of the road?
Well the area of Wales on Google Maps has just got a little bit bigger.
Natural Resources Wales teamed-up with Google to allow us to take Street View off the streets and into our nature reserves, protected sites and forestry.
The aim of the project was to collect imagery from a selection of our sites to create a virtual tour, allowing anyone to explore a site before they visit in real life.
The imagery also creates a snapshot in time of our sites from many different angles, allowing change to be monitored and its use as an educational tool.
Our hope is that by reducing some of the uncertainty of exploring the outdoors, we can encourage more people to visit, enjoy and learn about, the wonderful Welsh outdoors.
Trekker-ing around Wales
With the sites chosen and a network of keen staff volunteers ready to go, it was time to get out and start walking in some of Wales' most spectacular countryside with the Street View Trekker.
Choosing from so many fantastic potential places was difficult. We only had one summer and could only trek when it wasn't raining - which, being Wales limited our total trekking time. But we still managed to capture most of our key special sites and places of interest. You can see the full list of sites here.
From Newborough Warren to the Wye Valley woodlands we trekked over forty different paths across Wales, totalling over 200km.
Trekking causes quite a stir - walking around with 23 kilos of batteries, cameras (15 of them) and GPS units in a backpack is certainly a way of attracting attention to yourself!
This was one of the great things about the project, most people who saw this strange looking device couldn't resist coming to ask about it. It was great for trekkers to hear first-hand how much people loved visiting these sites.
I also got a great opportunity to also explore sites I'd never been to before, and to meet the people who manage them.
It was hard work, but definitely worth the effort!
There are some places we wouldn't have been able to trek without the help of our partners including Wildlife trust of South and West Wales, Swansea University, Merthyr Mawr Estate, the RSPB and the City and County of Swansea.
Ben Sampson of Swansea University manages Crymlyn Burrows says,
"The sand dunes and saltmarsh of Crymlyn Burrows is the last remaining pocket of natural habitat around the coast of Swansea Bay and it is very exciting that people can explore the area with this technology.
Hopefully it will whet people's appetite to get out and see (and hear and smell) it in the flesh too."
Have a look for yourself!
The images are published today (21 February, 2017) on Google Maps, with a selection of our walks available in this gallery. NRW will also be embedding these views into our website in the coming months so you can plan your trip before you visit, more information can be found here.