Magical woodland weddings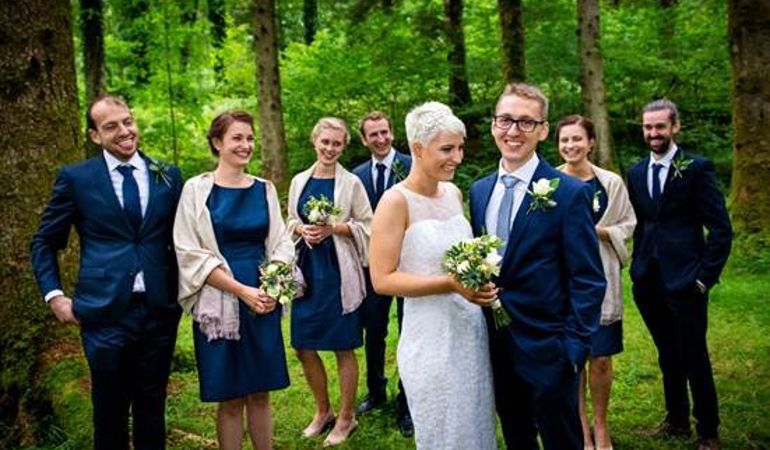 We look after sites across Wales where people can enjoy the beauty of our natural environment, right on their doorstep.
Last summer Coed y Brenin visitor centre, near Dolgellau, hosted their first wedding reception. Our Visitor Centre Assistant, Grace Sanderson, will tell you more about this new service...
Last year we decided to branch out and try something new by offering the visitor centre as a unique reception venue.
We thought that this would be a perfect location for couples who are looking to celebrate their special day amongst the beauty of the natural environment.
Our venue has a modern design and a covered balcony space which is set among the tree tops of North Wales. With breath-taking views of the forest and Cadair Idris, this is a really special setting for the bride, groom, and their guests to enjoy.
We've held two weddings this summer and both couples were able to head out and take advantage of the beautiful scenery for their wedding photos.
We have space to seat up to 70 guests, and we are licensed to sell alcohol and play recorded or live music until midnight. Couples choose the catering to suit their taste by hiring external caterers to prepare and serve food and drinks. There is also ample parking here, with access and facilities for all guests.
Elizabeth and Jason celebrated their special day with us at Coed y Brenin and they said,
"I always wanted to get married outdoors, so when Jason proposed I knew I wanted our reception in Coed y Brenin.
"This is a good choice of venue for an outdoorsy, nature loving couple to get married.
"Our friends and family had a wonderful time enjoying the scenery during our reception, and everyone commented on how beautiful the venue was."
If you would like to find out more information about Coed y Brenin our wedding reception facility you can call us directly at the visitor centre on 01341 440747.