#LetsGoDiscover spring wildlife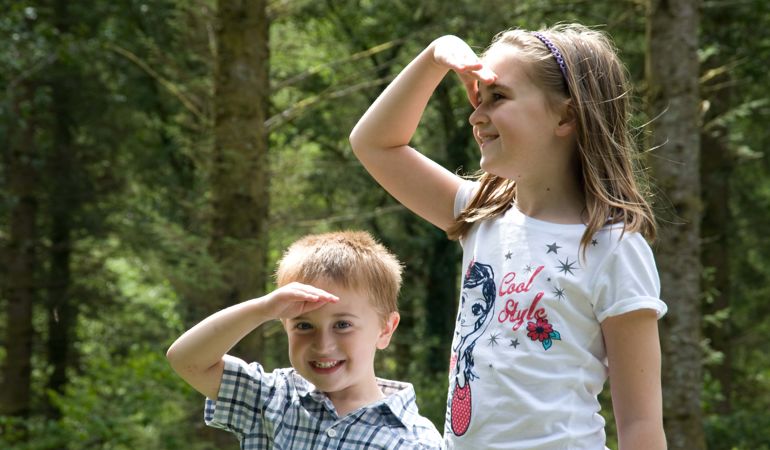 We've picked five of our sites for you to take the family wildlife spotting this spring. Not only are they home to some amazing plants and animals, they also have easy walks for little legs and are ideal places for children to discover the great outdoors.
Read on and get set to become a family of wildlife explorers.
Red squirrels – Newborough Forest, Anglesey
Pack your binoculars and head for Anglesey for the best chance of spotting a red squirrel, one of Britain's rarest mammals, in Wales.
Start your quest by taking the children on our short Red Squirrel Walk from Llyn Parc Mawr car park in Newborough Forest. This easy one-hour trail is waymarked from the car park, and the panels along the route have information about how Sara the red squirrel and her friends live in the forest and how we look after it with them in mind.
Back at Llyn Parc Mawr car park, keep your fingers crossed and your eyes peeled and you may spot a real red squirrel at one of the many feeders dotted around in the trees.
Find out more about Newborough Forest
Wildflowers – Dyfi Ynyslas National Nature Reserve, near Machynlleth
There's no need to travel to Chelsea Flower Show to see beautiful blooms when the sand dunes of Ynyslas are alive with so many wonderful wildflowers.
Marsh orchids start to flower in the dunes here in early June, followed by restharrow, lady's bedstraw and thyme later in the month. The marsh helleborine can also be seen, growing in the low lying damp dune slacks. Why not buy one of the flower identification guides from the visitor centre and see how many different species you can count?
There's a short boardwalk from the visitor centre down to the beach (don't forget your bucket and spade!) and two circular walks that are waymarked from the beach car park.
Check out the visitor centre's Facebook page for details of their flower-spotting events during June - these can be very popular so it's best to book a place in advance.
Find out more about Dyfi Ynyslas National Nature Reserve
Red kites – Bwlch Nant yr Arian visitor centre, near Aberystwyth
Famous as a feeding centre for red kites, Bwlch Nant yr Arian Visitor Centre sits at the head of a dramatic valley in the Cambrian Mountains.
This dramatic spectacle takes place at 3pm every day at this time of year – make sure you get there in time to see up to 150 of these distinctive birds of prey coming in to feed by the lake.
For close-up views, follow the Barcud Trail, an easy access route around the lake with a bird hide overlooking the feeding area. There's also an animal puzzle trail along the same route - pick up a leaflet from the visitor centre before you set off – and then see how many animal sculptures the kids can find.
If they still have steam to let off after all that wild-life watching, head to the adventure playground, where there's an area for toddlers and one for older children, or relax in the café and enjoy the view from the balcony over the lake.
Find out more about Bwlch Nant yr Arian
Insects - Cors Caron National Nature Reserve, near Tregaron
If the kids are interested in insects, then Cors Caron, a vast area of wetland near Tregaron, is an ideal place for a family day out.
As spring gives way to summer, the reserve starts to buzz with insects from bumblebees to hoverflies and butterflies to dragonflies. It's also a good place to spot creepy-crawlies - nearly 100 different species of spider have been recorded here.
These insects feast on a variety of food here, thanks to the many different plants that thrive on the range of soils around the reserve.
The circular boardwalk is a fun way to explore Cors Caron. It is accessible to wheelchairs and buggies and takes you out over part of the huge bog. Halfway along, it reaches an observation building where you can take a break and try your hand at bird-spotting.
Find out more about Cors Caron National Nature Reserve
Ducklings and chicks - Newport Wetlands National Nature Reserve
Young (and not so young!) visitors to Newport Wetlands love seeing ducklings and chicks bobbing on the water at this time of year.
Challenge the kids to spot mute swan cygnets, tufted ducklings, coot chicks and little grebe chicks. Even if you have a bad bird spotting day, you are sure to see displays of marsh orchids along the paths through the reedbeds.
The reserve is criss-crossed with paths and board walks, which are wheelchair friendly and suitable for buggies, and there are plenty of viewing platforms from which you can scan the pools.
Newport Wetlands is well signposted and easy to find, just outside the city of Newport, and there's plenty of information about the birdlife in the RSPB visitor centre at the entrance by the car park. If you fancy a longer walk, the Wales Coast Path passes the edge of the reserve – check out the family discoveries page on the website for inspiration.
Find out more about Newport Wetlands National Nature Reserve
Become a family of wildlife explorers
As well as these five wildlife havens, we have lots of other family friendly places where you can get closer to nature throughout Wales.
We have everything you need for a great family day out from play areas to cafés, and easy cycling trails to pushchair friendly walking trails.
Best of all, they are free to visit (although mum or dad may have to pay for the car park at some of them!).
Find out what's near you and plan your family day out in the great outdoors