Learning in Wales' Natural Classroom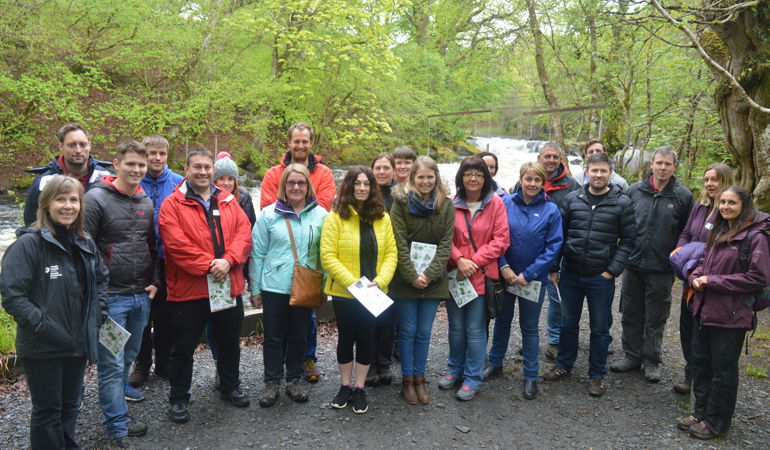 Over the last year we have changed the way we provide learning and skills opportunities to people living in Wales.
Instead of working in smaller geographic areas to deliver education directly to learners, we have expanded our Wales-wide service which gives teachers and educators the tools to take their learners out themselves to learn in and about our natural environment in Wales.
Change isn't always easy, but it can be challenging and refreshing, and this new approach to education will allow more people to make the most of the largest classroom we have in Wales - our natural environment!
Focusing on the whole of Wales and beyond
We understand that some people don't have the confidence to deliver education in the outdoors themselves, so we've been looking for new ways to encourage more groups on to the Welsh Government Estate.
We are developing site specific curriculum and Health and Safety information for self-led visits.
We've also been able to develop a short-cut booking process for our busier sites such as Fforest Fawr and Dyfi Ynyslas to ensure we can manage multiple groups on site and provide visitor satisfaction.
Working with the Flytipping Action Wales
Our education and learning staff in South Wales have been working with Flytipping Action Wales to develop our Waste and Flytipping resource package for Key Stage 2 and 3.
These modules provide educators with the tools to teach people about the impact of flytipping and the importance of dealing with waste correctly.
Once completed, this resource will be available to all educators via our website and the Flytipping Action Wales website. This means our on-line documents and supporting teaching notes and resources will be available for all to use.
Look out for the official Wales wide launch later in the year via our website, Facebook and @NatResWales Twitter account.
Sustainable Management of Our Natural Resources
Our Natural Resources provide us with our basic needs required to live. The air we breathe, the water we drink and the food we eat. It also provides us with amazing places to visit, and provides a home to many species of plants and animals.
To help us protect our natural environment now, and for the future, we are working with the WJEC examination board to ensure the importance of sustainable management is recognised within the Welsh Baccalaureate.
We've developed a number of Welsh Bacc group and individual challenges to allow students to investigate topics such as healthy rivers, flood alleviation and healthy lifestyles. We now have 8 Employer Challenges approved and available to all learners at Key Stage 4, Post 16 and Advanced level across Wales.
We will continue working with the WJEC to develop and provide tools for educators to teach the importance of the Sustainable Management of our Natural Resources.
More information can be found on the WJEC Welsh Baccalaureate website under the "Approved Challenge Briefs by Organisations" section.
Training for teachers and educators
Through our training programme we can now offer events to highlight use of our own sites and work in partnership with others. This promotes a wide range of environmental subjects linked to the STEM and ESDGC curriculums and the Literacy and Numeracy Framework (LNF).
Events like this offer curriculum linked resources, hands-on activities and real time data for use for analysis and investigation with groups of all ages and abilities.
Our recent free 'Raindrop to Kettle' training day gave educators information about the environmental, social and economic aspects of water storage, abstraction and management of the River Dee from source to estuary.
Real life data was used to produce activities to meet a range of curriculum subjects and we also introduced our GCSE and A-level flood alleviation case studies at St Asaph and Dolgellau. Participants were also shown how to bring learning to life by utilising a local river trail and a range of hands-on activities.
Resources developed as part of this training event will soon be up on our website for all to use and adapt for use with local rivers.
Looking to the future
So the first 8 months with our new way of delivering education and learning have been busy, but there's still more to do!
Our education and learning networks continue to grow and act as important communication tools as we roll out our resource packages and Sustainable Management of Natural Resources messages.
Local Outdoor Learning Wales Network Groups offer great opportunities to share good practice, take advantage of skill shares and CPD events, receive a monthly newsletter, and work with like-minded people on joint projects and programmes.
We have a range of learning resources in development and a lot of work to do to create new user friendly web pages to make them easily accessible for all.
We also have important work influencing the new curriculum and links are being made with Young Wales to help us to work with young people as we develop our strategies and policies.
If you are interested in learning in and about the natural environment - the largest classroom we have in Wales, and how to sustainably manage it now and in the future we'd love to hear from you. Please contact education@naturalresourceswales.gov.uk .