International focus on Welsh seagrass, by Lucy Kay, Senior Marine Conservation Officer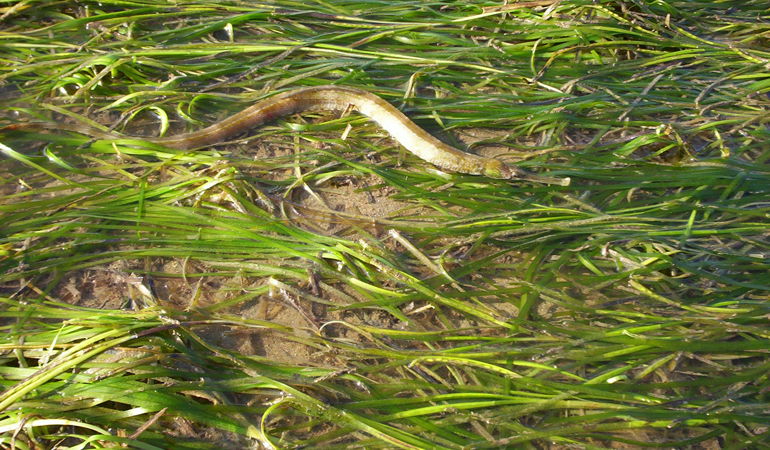 Every two years the International Seagrass Biology Workshop (ISBW) brings together world experts on seagrass to collaborate and better understand the importance of managing this amazing and endangered habitat.
This year, the event will be held from 16-21st October 2016 at the Nant Gwrtheyrn Welsh Language Centre in North Wales. With Porthdinllaen on the doorstep – where you will find some of Wales' finest seagrass beds – the workshop will have a strong Welsh focus.
Seagrass is a productive and biodiverse habitat, made of plants adapted to life in the sea. It provides services to humanity that make it one of the most valuable habitats on the planet.
Seagrass meadows provide important habitat for juvenile fish such as cod, plaice, herring and pollack. They also help mitigate climate change by trapping vast amounts of carbon dioxide into marine sediments.
Protecting these habitats is vital for our coastal environment and for the sustainability of our fisheries.
We're expecting 200 participants from around the world to join the event, including world leading scientists from China, Indonesia, Brazil and Sri Lanka.
Hosting this event is a chance for us to showcase our fantastic coastline and put seagrass conservation in Wales in the spotlight.
Alison Hargrave, Pen Llŷn a'r Sarnau Special Area of Conservation (SAC) Officer will be giving a talk and leading a guided tour on seagrass conservation at Porthdinllaen.  According to Alison: "The seagrass at Porthdinllaen is classed as being in an unfavourable condition partly due to the impacts of boat anchors and mooring.  Our project is looking at how we can reduce this impact without impinging on how people use the area.  
"We've been doing surveys to look at the importance of the seagrass here, and the extent of the damage.  We found that the bed is an important nursey ground for commercial fish species.
"We've been working closely with stakeholders to make sure they are involved from the start and that they help decide what steps should be taken in Porthdinllaen.  The conference is an opportunity for us to gather ideas about how to adapt moorings to reduce their impact on seagrass."
A series of events for local people will run alongside the workshop.
The workshop is hosted through a collaboration between scientist and environmental managers from a range of organisations in Wales, but led primarily by scientists from Project Seagrass https://www.projectseagrass.org/
Supporting organisations: SEACAMS2, Sustainable Places Research Institute, Project Seagrass, National Trust, Gwynedd County Council, Natural Resources Wales.