International Day of Forests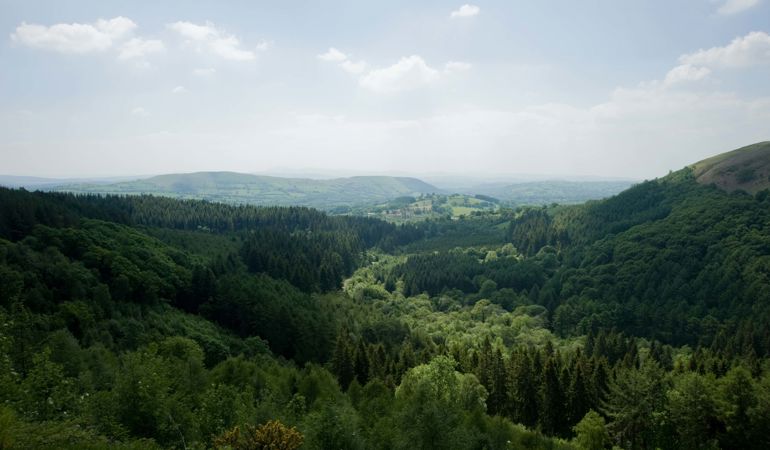 To mark the international day of forests, Welshpool based forester Greg Jones talks about how Natural Resources Wales foresters manage the Welsh Government Woodland Estate.
Natural Resources Wales (NRW) manage 126,000ha of forests and woodland across Wales on behalf of The Welsh Government - that's 6% of the country's total land area - and around 40% of the Welsh forest resource, making us the largest land manager in Wales.
In managing these public woodlands we aim to balance the needs of the people, the environment and the forest economy in Wales.
Looking back
Between 7,000 and 5,000 years ago, most of Great Britain was covered with forest from the bottom of river valleys to the hilltops and mountain sides. Significant forest clearance was undertaken between and 5000 and 6000 years ago and it is likely that no original forests often referred to as 'Wildwood' are left in the UK.
Forests, as most people recognise them today, were established on land deemed not worth farming in the middle of the 20th century. This was done in an effort to increase forest cover and to attempt to redress the issue of the UK having to import most of its timber during the First and Second World Wars.
This has led to the well-established forests we manage today which deliver a significant range of benefits aside from sustainable timber production such as water management, species conservation and biodiversity.
Forest Management
Most of our forests are managed under a system termed 'clearfell – restock', this clears trees from a designated area of forest known as a 'coupe' on the basis of replacing felled trees with 1 or 2 year old forest plants.
We also manage Welsh forests using Continuous Cover Forest management, this is where forests stands are continually thinned for growth using predominantly naturally regenerated trees.
All forests in Wales are managed for multi-purpose objectives, the balance of which is based largely on their location and timber is not always the primary objective of management.
For example, many upland coniferous forest across the Welsh Government Forest Estate are managed primarily to produce timber but this does not negate other key objectives such as heritage and conservation management.
Silviculture is the art and science of controlling the establishment, growth, composition, and quality of forest vegetation for the full range of forest resource objectives
This is an essential tool in forest management to help us understand how to integrate growing Welsh timber sustainably with other key objectives like soil conservation, climate regulation and water management. 
Looking to the future
Climate change is one of the greatest global challenges we face and forests have a critical role to play in managing the effects by reducing levels of carbon dioxide in the atmosphere.
Increasing continuous cover forest management and diversifying the tree species in them will make Welsh forests more resilient to climate change and help combat the increasing threat of tree pests and diseases.
Continuous cover forest management enhances the overall function of forests which play such a vital role in the Welsh landscape today.