Improving our web navigation…
Have you found what you were looking for on our site today?
Our web page statistics and feedback from some of our customers suggest that many of you are not easily finding the information you need. So this week's post focuses on the changes we're making to our website navigation.
We're on a mission to reinvent our site navigation and improve your overall experience when visiting our site. It's important we really open up content options for our customers – ahead of next year's new site launch in March.
It's all about content, and finding it…
The content on our website needs to reflect the very wide remit of Natural Resources Wales itself. But this doesn't mean that we're going to create lots and lots of content, quite the opposite. Good content is focused – providing our readers with what they need, where they'd expect to find it.
If it doesn't serve a genuine business need or deliver value to our customers, it shouldn't exist.
That being said, if you cannot find your web content or service, then it doesn't matter how effective the offering is. We must ensure you can find it – and the current website navigation doesn't always make this an easy task.
A new navigation
We're proposing a move away from the three central web chapters on the current site [Our work / Apply, buy, report / Out and about]. Instead, we'll present a set of 16 top-level web chapters that cover every aspect of our business, as follows.
New web navigation for Natural Resources Wales
| | | | |
| --- | --- | --- | --- |
| About NRW | Apply and buy | Out and about | Working with you |
| Forestry | Fisheries | Marine | Energy |
| Flooding and water | Conservation, biodiversity and wildlife | Environment and planning | Report it |
| Research and evidence | Maps and data | Policy and guidance | Regulation |
This is similar to the way the .Gov website presents content and services to the public, and there are several advantages:
– Key areas of the website are within reach as soon as you land on the homepage
– There are 'fewer' clicks to your content. More chapters means a 'shallower' website
– We can provide more navigational avenues to similar content across the chapters.
Let us know what you think of the new chapters. Do they suggest a more intuitive experience than the current navigation?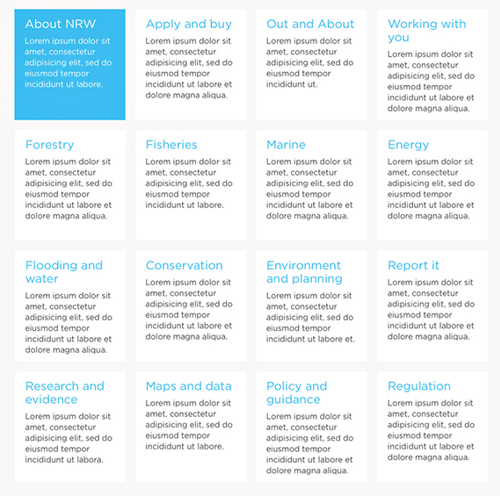 Suggested navigation for the Natural Resources Wales website
New navigation = new design
Of course, introducing a radical new navigation has a direct impact on the website design – and the structure of the web pages [or templates] in the NRW site.
A new nav means a new design. Our next post will focus on these new designs – we'll share an early draft of our new homepage, and will be looking for your feedback. Until then.