Improving access for all at our main visitor sites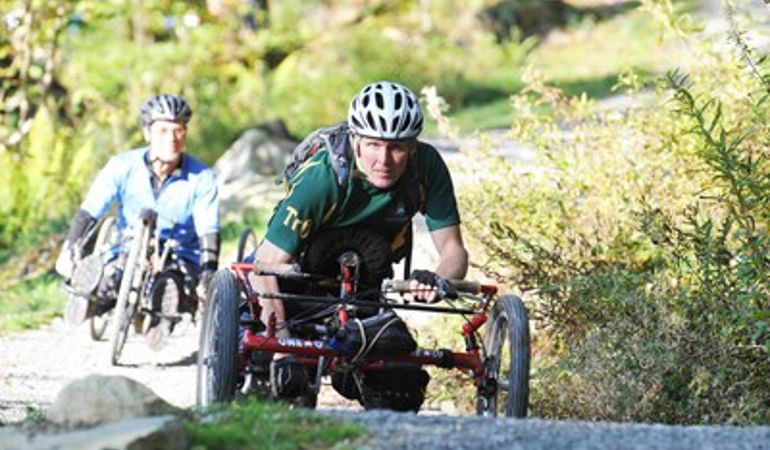 At Natural Resources Wales, we aim to ensure that people can enjoy our visitor sites and trails no matter what their background or circumstances, whether they are visiting National Nature Reserves, the wild and windswept coast, or sheltered woodlands.
Rachel Parry from the Recreation, Health, Wellbeing and Education team talks about the Equality and Diversity Assessment we have recently undertaken, reviewing access and facilities at six of our main visitor sites to find out how easy it is for everyone to enjoy the opportunities offered.
Equality and Diversity Assessment Report
Our Recreation, Health, Wellbeing and Education team, Equality and Diversity Forum and staff managing some of our main visitor sites worked together with Phil Chambers Consultancy to assess whether we provide fair and equal services and facilities for all – what we're already doing well and what we can improve on.
Recommendations from the report are now being built into action planning to improve work on the ground: signage, path surfaces, how we communicate with our visitors, and the information and guidance we provide to our staff. And many of the recommendations are about keeping up the effective work we are already doing.
Over the next few months we'll be producing guidance on how to ensure we consider all the protected characteristics at sites we manage.
Read the executive summary of the Equality and Diversity Assessment report
Working together to improve customer experience
One of the great things about this project is the collaboration between staff working in recreation, equality and diversity, communication and site management because we all want to improve people's experience of visiting our fantastic sites – and that means all visitors regardless of ability, background, preference or identity.
Graeme Stringer, Recreation Manager at Coed y Brenin said: "Now that equality and diversity is delivered by a dedicated Recreation Team in North West Wales some of the good practices developed at Coed y Brenin are being rolled out to other sites to help improve access for all."
Sam Carpenter, Equalities Senior Advisor added: "We are keen to do everything we can to help make Wales a great place to work, to play and to grow, so that people today and those in generations to come can have the opportunity to excel in their lives."
How the assessment was carried out
We wanted to find out about physical access to the sites and facilities and how people with protected characteristics find out about things that are happening at our sites. For example, some sites may have easy access trails, but some people may feel that they cannot easily find out about these opportunities and that information and communication links are barriers to access.
People with protected characteristics include:
Disability
Sex (gender)
Gender reassignment
Pregnancy and maternity
Race
Religion or belief
Sexual orientation
Age
And, of course, people can be included in more than one group - for example, a disabled person with an ethnic minority heritage.
The methodology to carry out the Equality and Diversity Assessment included a mix of visitor and NRW staff consultations, using both online and face-to-face conversations, which were carried out in early spring 2016. In addition the consultants, who are experts in the field, visited each site in order to evaluate our service on the ground against the relevant standards and guidelines.
The six sites covered in the review are:
Coed y Brenin
Cadair Idris
Bwlch Nant yr Arian
Ynyslas
Garwnant
Newborough
Providing fair and equal services and facilities
The Equality and Diversity Assessment was designed to show whether people recognised as having protected characteristics under the Equality Act (2010) were receiving equal services and opportunities to visit the six assessed sites.
The Equality Act (2010) brought together and replaced the previous anti-discrimination laws such as the Disability Discrimination Act with a single Act.
The public sector equality duty under this Act is to ensure that public authorities consider how they can positively contribute to a fairer society through advancing equality and good relations in their day-to-day activities and that delivery of services and policies are kept under review.
Equality is not about 'treating everyone the same' but recognising that everyone's needs are met in different ways - in other words it is about respecting diversity.
Read the executive summary of the Equality and Diversity Assessment report
The full report is available on request by emailing Rachel Parry.