Getting social on the Wales Coast Path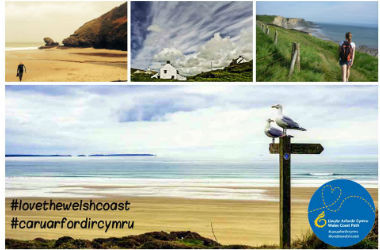 The Wales Coast Path is the first of its kind in the world – and the longest continuous path along a nation's coastline. Most people will be exploring the path with a smart phone in their pocket, so with our @WalesCoastPath social media accounts we have opportunities to engage with people separately from our main @NatResWales accounts.
Going Social – the beginning
When we launched the Wales Coast Path in 2012, one of the first things we did was set up our social media channels to spread the word of its launch and to provide platforms for people to share their photos, stories and experiences along the #WalesCoastPath.
We only set up Twitter and Facebook accounts initially, as these were the most popular at the time.  In the early days we found that it was often the behind the scenes work we did, linking up with various partners and tourism bodies, both locally, nationally and internationally through Visit Wales, that drove their success.
After establishing Twitter and Facebook, the initial influx of followers flew in. The visual element (photos, videos and content) of Facebook works well and Twitter proved good as a place to ask questions about the path and interact in real time.
The next step…
The launch of the Wales Coast Path website, and linking through it to our social media, focused our attention on the importance of Search Engine Optimisation (SEO).
To help bring us up to the top on Google search, we created a Google+ account which linked to the website. For a long time this remained in the background and was quite static. However, recently there's been a boom in followers, possibly as more sites like Wales Online and Daily Post are also posting more content on their Google+ channels. So now we are working more proactively to maintain it and post engaging content.
Pinterest is an unusual one for us. It works well because it's visual – so great for posting fantastic images of the Welsh Coast, but it's not that social as there isn't much interaction – people just pin the stuff they like! But by using the Google Chrome plugin, it's very straightforward to maintain and share links to posts on our website.
Instagram is a more recent development for us, and has been a bit of a slow burner, but is gradually increasing in terms of followers as more and more people are made aware of our account and are using hashtags like #lovethewelshcoast and #walescoast.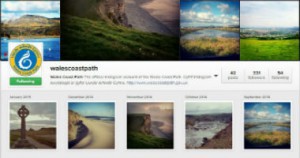 The main challenge I find with Instagram is that it is fairly limited to phone use, and therefore a bit trickier to manage from the office. But there are ways around it, and it's an investment worth making, especially as it's easy to link up with other social media channels.
The reason we have so many channels is that although they mainly do one thing – share information – they do that in different ways to different audiences and serve to maximise the interaction we achieve. Different people have difference likes and dislikes when it comes to social media and we have to make sure we're catering for this.
I'd definitely recommend registering an official social media account with all of the various channels. Even if you don't use them straight away, they may become more popular or easier to use later on down the line and by then your name could be already taken.
The biggest challenge for managing the social media is to allocate the resources to get it set up and maintained. Fortunately, from the beginning of the project we had someone dedicated to working on the digital channels. By now, there are two of us who manage it as part of our jobs, and even sometimes in our own time – after all, not all social interaction happens between 9-5pm.
The Wales Coast App
Beyond the use of social media we have worked closely with Keep Wales Tidy, Visit Wales and a third party developer to create and improve a Wales Coast app. The app is currently available on the apple and android formats and can be downloaded from our website.
Social media is a really important tool for engaging with local users and attracting the visitors that contribute to our economy, enjoy the health benefits of being outdoors and explore our wonderful coastline. We hope to continue building the followers on all our channels and seeing more people share their photos and experiences with us as they continue to discover the shape of a nation!