New flood risk maps now live
Richard Weston, Flood Risk Analysis Team Leader talks about the new online maps for flood risk.
From today (1 July), you will be able to check your flood risk, view areas benefiting from flood defences, and see which areas can receive flood warnings by using our new online flood risk map.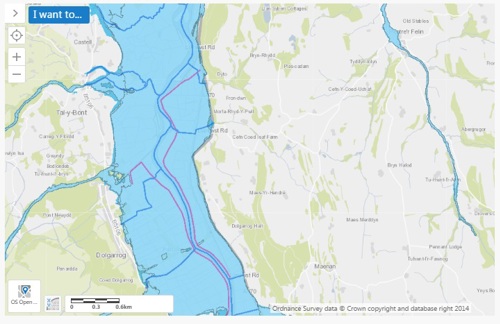 This information was previously available on the Environment Agency's website, but now we've integrated our own interactive map viewer into our website so you can view flood risk data sets for Wales right here.
The new online flood risk map has taken a considerable amount of work to produce, but now we have a platform we can use to make more of our information available to view online. This first phase has ensured that the basic data around flood risk is available to replace the information that was previously available via the Environment Agency's website.
We've launched this in BETA to gather feedback that will help us improve how we develop our online maps in future. So please tell us about your experience in using the maps – be it good or bad.
Whether you want to check the flood risk to your new home for insurance purposes, or view which areas are benefiting from flood defences, we want you to be able to use our maps to find the information you need.
As a flood risk management specialist, I'm familiar with using technically complex modelling and mapping tools as part of my job, but when looking to develop maps for people to use on our website, we needed to make sure the product we developed was as easy as possible for everyone to use.
We also wanted to produce a map that allows more functionality for users. Previously, when looking at Wales' flood risk data on the Environment Agency's website, you could only view one dataset at a time, but with this new mapping system you can add or remove different layers within the same map viewer. This means you can see all the flood risk data without having to move to different pages.
Keep an eye out for further updates about other online maps related to aspects of Natural Resources Wales' work – but in the meantime, we'd love to hear your thoughts about using the new flood risk maps.