Filming Natterjack Toads with Springwatch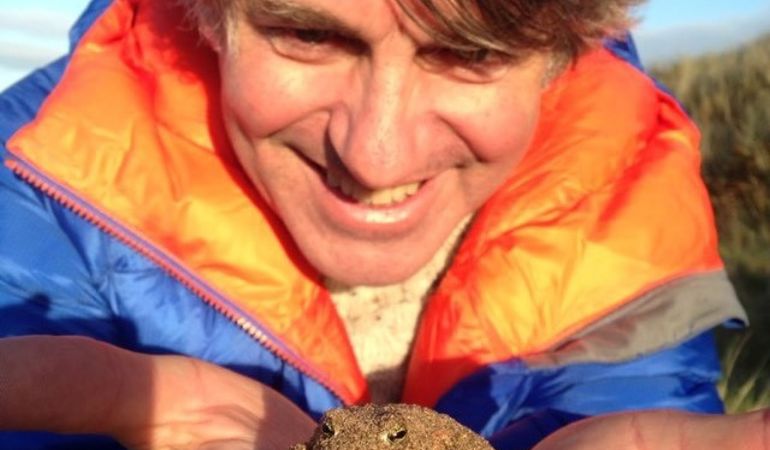 A few weeks ago, Matthew Ellis, NRW senior species officer, met up with the BBC Springwatch Team to go in search of Natterjack Toads on the North Wales coast….(pictured: Springwatch presenter Martin Hughes-Games with a natterjack)
Here, Matthew gives an account of their evening out….
It's early evening on 12th April.  That means one thing – time for the annual Natterjack Toad training event held in Talacre, Flintshire.
But this year, the BBC Springwatch film crew was joining our evening's activities as well.
Hosted by ENI and delivered by Amphibian and Reptile Conservation, I always look forward to this event as an opportunity to bring enthusiastic volunteers up-to-speed on how to survey and monitor these nocturnal, enigmatic creatures.
The species was thought to have become extinct in Wales in the early 1960s and were reintroduced in 1995. Initially, we thought the re-introduction had failed.
But, thanks to the commitment of a range of partners including Flintshire and Denbighshire County Council's; ENI, Bourne Leisure, the Amphibian and Reptile Conservation and NRW, the species has successfully established itself as one of the most notable features of Gronant and Talacre Dunes Site of Special Scientific Interest and Local Nature Reserve. We estimate that the population has reached 300 adults.
Populations of Natterjack Toad are found along the southern boundary of Liverpool Bay and are now considered to be of international importance. The population is listed as a feature of the Dee Estuary Ramsar site (a wetland of international importance).
This is a significant nature conservation success story and one of the highlights of my career as an ecologist.
So, back to our evening…I arrive at ENI's training camp at 7pm where I meet up with Kim Norman (ENI's contract ecologist), and John Buckley and Yvette Martin from Amphibian and Reptile Conservation (ARC).
Around 20 students have joined us. Once they are fully briefed on the natterjacks, we all clean our boots and make our way to the ponds that nestle in the dunes.
Normally, I would be leading a group of students. However tonight is different as some of us need to join up with the Springwatch team.
So, Kim, John and I leave the volunteers and head for another pond in the dunes to meet Martin and his Springwatch colleagues. It is, unfortunately, a very cold night – too cold to record the loud, rasping calls of the natterjacks. Indeed, we find no natterjacks at this pond! How typical when we know that this is one of the UK's most successful translocation sites!
With some relief, we receive notification from the students that they have found toads at the ponds they are surveying.
Throwing our filming and recording equipment on our backs, we relocate quickly to these ponds. Over the next couple of hours, Springwatch recorded great footage of natterjacks.  
So often hidden from view, natterjacks are just one example of our wealth of wildlife that so often goes unnoticed - with all the danger of being out of sight, out of mind.
I was delighted that our local Talacre natterjacks, thanks to Springwatch, would be revealed to audiences far and wide.
I got home just before midnight and finished the evening with a wee dram..… a tried and tested way of warming up after spending the night surveying nocturnal wildlife!
Find out more - https://www.arc-trust.org/natterjack-toad